2016 pilot project now permanent, feeds 125 families with produce
Stephanie Cook didn't know what kohlrabi was and had never eaten a brussels sprout three years ago, but now she not only eats them — she grows them for hundreds of people in her northern Manitoba community.
"I knew what romaine lettuce was, I knew what green lettuce was, I knew what onions were, I knew what potatoes were," said the operations manager of Opaskwayak Cree Nation's year-round vertical vegetable farm. "Now it's like I have this whole big list of vegetables I use. That's kind of something that I never thought would happen."
The pilot project kicked off in 2016 with just seven plants grown under LED lighting in hydroponic Styrofoam planters. The indoor growing facility in OCN's community hall now has more than 75 plants that supply free, fresh produce to 125 families on a regular basis.
The farm resembles a science laboratory where workers don white suits and take a five-second air shower before entering in order to blow off any loose particles that could contaminate the facility.
The facility uses blue, red and green LED lights — with options to control UV and infrared light plus other settings — to mimic sunshine. A computer controls temperature and moisture in the room as well as carbon dioxide and nutrient levels.
"It's been a real game-changer on everything," said Cook, a former Child and Family Services worker turned vegetable cultivator. She and her team first started experimenting with different types of lettuce and basil, but have now moved on to more than two dozen different types of fruits and vegetables.
Seven rows of planters line the room, each stacked four rows high. Seeds are started in trays of small, Styrofoam squares before being transplanted to the vertical planters after germination.
Brent Knutson, a plant technician on the project, said they average seven harvests per year because plants can be grown year-round, as opposed to one or maybe two harvests at traditional outdoor gardens.
Radishes, for example, he said can grow in 21 to 45 days, depending on the variety.
"It happens fast," he said. "[In] January, this thing was just full. It's –35 C out there and we have a full room of vegetables. It's crazy, but it's reality."
Fighting diabetes
Now with more than 75 plants — and still not at full capacity — Cook said 125 families now are able to access free, fresh produce on a regular basis.
Fresh vegetables can be hard to come by — and expensive — in northern communities, which can lead to high rates of diabetes. Cook says she's seen people in their 30s who need amputations, among other complications associated with the disease.
"What is boils down to is 49 per cent of our community is diabetic," said Cook. "That's a staggering amount. They're feeling that crunch on the health-care systems."
Some of the vegetables are also donated to other local facilities and to a program that teaches people on social assistance how to cook healthy meals.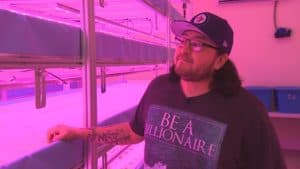 However while the project and produce are picking up steam on OCN, it hasn't been without skepticism from community members.
"A lot of people were worried, like it comes from science," she said. "You don't use soil, is basically what it came down to."
Interest from other communities
Cook said there has been some interest from other northern communities who have come to study the project in the hope of one day starting up their own indoor vegetable farms.
The idea was presented to leaders at Opaskwayak after chance encounter with a group of business people from Korea. The group had been doing surveying for a Hydro project near The Pas when their vehicle got stuck; local trappers helped them out, and eventually the group was introduced to OCN leadership.
Vertical farms are popular in the Asian nation, and the Koreans showed OCN leaders how they work. As talks progressed, a Korean business incubator got involved and access to fresh produce became the clear answer on how South Korea and OCN could work together.
Imagine growing enough lettuce or kale to feed a northern Manitoba community in winter. For people in Opaskwayak Cree Nation, near The Pas, Man. it's a reality. 0:40
The project hasn't been without its challenges.
In many ways, Cook said it's been trial and error. She recalled one incident where her team tried to grow strawberries, but failed. The failure was tracked down to the strawberries simply not "liking" to be grown around some of the other vegetables.
Another incident saw some of the leafy green vegetables develop unusual bubbles in the leaves. That incident was tracked down to a mix-up in the nutrients.
They also discovered that playing soothing music for the plants overnight helps them grow.
New gardens popping up
Cook said it appears the project is inspiring community members, who have started their own plots as well as community gardens.
"It makes me happy," she said. "I go home at the end of the day and I know those vegetables are getting out into the community and those people are making an effort to teach their kids."