Diane Bergeron, declared legally blind at 10, living proof of CNIB's good work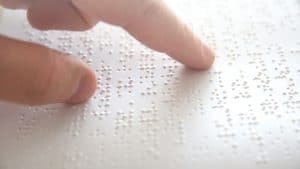 Diane Bergeron was deemed legally blind at a young age, but being visually impaired hasn't stopped her from living a full, independent life.
Bergeron is vice-president of engagement and international affairs with the Canadian National Institute for the Blind. She became a CNIB client when she was first considered legally blind, at the age of 10.
The organization is celebrating its 100th anniversary this year, giving Bergeron an opportunity to reflect on the strides she's made since she lost her sight as a child.
Back to basics
"It's really important for people who lose their sight to learn how to be safe in their external environments in their community, but also in their own homes," Bergeron told CBC Radio's Ottawa Morning.
People who are visually impaired have to deal with a lot that those with sight might not even think about. They have to learn and re-learn basic life skills as well, which is something the CNIB does," Bergeron said.
"Learning how to iron without burning yourself, how to rearrange your closet to make sure you're not wearing pink pants and purple shirts," she said. "Just trying to keep yourself together so that you can get back to a life that is independent and you can go out in the world and be safe."
Since age 10, with the help of the organization, Bergeron has learned how to be independent. She went on to earn a master's degree, become a parent and travel around the world for work with her guide dog.
Nothing like a good book
The CNIB was created in 1918 to support veterans who had lost their sight after being injured in the First World War. The organization's precursor was a group of helpful people who volunteered their time to read to the blind.
One of the organization's more well-known programs is its partnership with the Centre for Equitable Library Access.
The partnership sends audiobooks to CNIB members in the mail, so that getting lost in a good book isn't exclusively for people who can see. These days books are also available for download online.
For Bergeron, who says she reads about five books a week, the most profound experience in her time with the CNIB was when her daughter was struggling to read.
"She was in Grade 2 and she couldn't identify letters and we realized as a blind parent I couldn't show her the printed letters and the words," she said. "So CNIB had volunteers come to my house to help my daughter read, and within six months she was reading at an advanced level for her age."
The CNIB's birthday celebrations begin March 31.