'The electric car is here and it's here to stay,' says Autochargers.ca CEO Gleb Nikiforov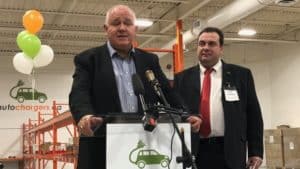 Ontario's first manufacturing plant that makes charging stations for electric vehicles has opened in Markham, Ont.
Gleb Nikiforov, CEO of Autochargers.ca, a national company that supplies equipment for electric vehicles, says the plant aims to manufacture 40,000 charging stations a year, starting in 2019, and to create 100 jobs over the next three years.
"It's a very exciting moment today," Nikiforov told reporters at a ribbon-cutting ceremony on Friday.
"The electric car is here and it's here to stay."
Nikiforov says electric vehicles make sense because they are more environmentally friendly than vehicles that run on gasoline. He noted that many automakers have plans to produce electric vehicles.
The plant that opened on Friday has the capacity to manufacture 60,000 charging stations a year, but the company will begin operations slowly before increasing production, he says.
Nikiforov says the plant will initially use parts from California but will eventually use parts made in Canada.
He says Markham was chosen because it has a skilled workforce and is located close to Toronto.
Markham Mayor Frank Scarpitti, who attended the opening ceremony on Friday, said the city is a strong advocate of electric vehicles.
"It speaks to really what's happening to the economy," he said.
"The only way we are really going to change the world out there is by making it easier for the consumer to be able to buy electric vehicles and be sure that they can charge them wherever they go."
Pilot project testing impact on electrical grid
Steven Del Duca, Ontario's economic development minister, said in a news release on Friday that the plant is good news for the province.
"This new facility will serve as a catalyst for new opportunities and new careers throughout Ontario, and we're very excited to welcome the new facility and watch its growth in Ontario and beyond," Del Duca said.
Last summer, Markham launched a two-year pilot program to assess the impact of daytime electric vehicle charging at workplaces on Ontario's electricity grid.
The project, called the "Alectra Drive for the Workplace," is located at the Markham Civic Centre.
Sixteen electric vehicle charging stations have been set up as part of the project, with 10 outdoors and six indoors for project participants. One of the 16 charging stations is for public use.
The city decided its civic centre was a good location for the pilot project because five city council and staff members currently drive electric vehicles to work and one electric vehicle was added to the city's fleet last year.
Autochargers says it has formed a partnership with eMotorWerks, a supplier of electric vehicle charging stations, to help it manufacture the charging stations.
Autochargers.ca says it has been providing sales, installations, maintenance and support of electric vehicle supply equipment across Canada since 2013.