Cambridge Memorial Hospital also receives $1.99 million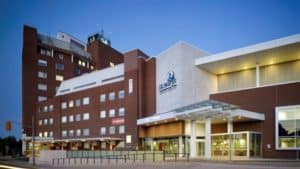 Kitchener's two hospitals will be receiving $11.62 million in additional funding between 2018 and 2019, the province announced Friday.
St. Mary's Hospital will receive $7.58 million in additional funding between this year and next, while Grand River Hospital will receive $4.04 million.
The funding is meant to help improve access to care, reduce wait times and help the hospitals deal with capacity issues.
St. Mary's president Don Shilton said they were "grateful" for the investment.
"Every day, staff and physicians at St. Mary's work extremely hard to deliver on St. Mary's vision to be the safest and most effective hospital in Canada, characterized by innovation compassion and respect," Shilton said in a release from the government.
Malcolm Maxwell with the Grand River Hospital also said they appreciated the additional funding "to advance exceptional care in our community, especially as our population grows and ages."
The funding was part of a series of announcements taking place across the province.
In Cambridge, MPP Kathryn McGarry announced $1.99 million for Cambridge Memorial Hospital.
Guelph MPP Liz Sandals also announced $3.76 million for Guelph General Hospital Friday morning.