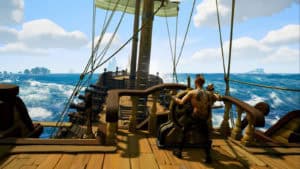 Have you been struggling to play Sea of Thieves since it launched on March 20th? There's a good explanation for it. In a launch update, Rare's Craig Duncan and Joe Neate have revealed that over 1 million unique gamers have played the online pirate adventure in just its first 48 hours. The team had anticipated large demand, but wasn't ready for as many as 5,000 logins per minute — the servers went down for nearly five hours on launch day as a result.
The studio has had to make strategic decisions to keep things humming. It has prioritized people already playing the game, and has been delaying achievements. Some issues need fixes on Rare's side, such as missing items. And if you're one of those itching to play, it's advising that you don't keep trying to sign in. That just kicks you back to the start of the sign-in process and adds to the server load, Rare said.
To some extent, you could have seen this coming. On top of the relentless hype for the game (including multiple beta tests), Microsoft has been giving out free copies to Xbox One X buyers and including it in Game Pass subscriptions. It would have been surprising if there wasn't a glut of players. Still, it's good to see a developer being candid and taking responsibility quickly.