Amazon (NASDAQ: AMZN) has been tight-lipped about its Amazon Prime Video figures, perhaps because it doesn't want to be compared to top video streamer Netflix (NASDAQ: NFLX).
While Netflix boasts about 55 million U.S. subscribers, only about 26 million U.S. Prime members have watched TV shows or films on Amazon, according to early 2017 data found in internal documents that were obtained by Reuters. Amazon and Netflix have both been spending billions annually to churn out high-quality content to attract streamers, but Netflix has been the clear winner with hits like Stranger Things and Narcos.
However, Amazon's end goal for streaming is to draw people into its Prime membership program so that they spend more on its site. And the documents show that Amazon's video platform helped convert more than 5 million people worldwide to its Prime program from late 2014 to early 2017, Reuters reported, so Amazon's plan seems to be working.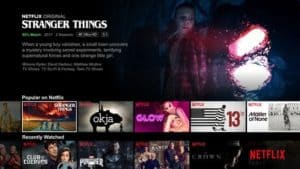 Netflix's hit shows like Stranger Things have helped it reach 118 million subscribers. Image source: Netflix.
Amazon Prime Video boosts Prime memberships
Amazon has grown into an empire, especially with the addition of Whole Foods last June, but its main goal is still signing up more Prime subscribers.
Amazon Prime Video is no different: It's a service meant to help convert Amazon viewers into Amazon shoppers. The fact that the company kept track of the 5 million streamers-turned-shoppers as of early 2017 is further validation that this is its end goal.
While Amazon doesn't release a specific Prime membership figure, it has maintained that it has "tens of millions of members around the world." Amazon may have hit 90 million U.S. subscribers this past September, according to the most recent estimate from Consumer Intelligence Research Partners.
Amazon Prime memberships continue to be the end goal
But why is Amazon so laser-focused on growing its membership program? Because Amazon Prime members spend more money than nonmembers on its website.
Amazon CEO Jeff Bezos explained this strategy in a 2015 interview with The Hollywood Reporter. "When people join Prime, they buy more of everything we sell," he said. "They buy more shoes, they buy power tools and so on."
If you look at Amazon's many different revenue streams, that's why they all go back to trying to convert nonmembers into members. For example, the company's 14 Amazon Books storefronts all offer discounts only to Prime members. Amazon's Whole Foods offers special services to Prime members, such as free two-hour grocery delivery in four cities, with plans to expand that program in 2018.
And once Amazon has you in its $99-per-year membership program, it can really start to take over your life. The company can then start luring you not only to shop on its platform, but also to purchase one of its Alexa devices and use it to control your coffee maker or dishwasher.
In its boldest move to date, Amazon has started marketing a smart lock that allows Amazon delivery employees to place a package just inside your door — but only if you're a Prime member. You would get a live-streamed video of the delivery sent to an app on your phone. Soon, Amazon could start using this lock system to send house cleaners or technicians into Prime members' homes while they're at work.
Amazon ramps up content output to keep up with Netflix
Netflix and Amazon both have multibillion-dollar content budgets because of the "golden formula" that says better content leads to more subscribers. Netflix expects to spend between $7.5 billion and $8 billion on content in 2018, while Amazon spent an estimated $4.5 billion on content in 2017 in an effort to catch up to Netflix's lead. "The real driver is to make the big titles bigger," Netflix CEO Reed Hastings said on the last earnings call.
While Netflix has about 55 million U.S. subscribers, Hastings says it can still add about 35 million more subscribers in the country, for a total of 90 million; that would be about 28% of the current U.S. population of around 327 million. Although the U.S. is becoming a saturated market, Netflix actually added slightly more subscribers in 2017's fourth quarter (1.98 million net additions) versus Q4 2016 (1.93 million net additions).
Meanwhile, Amazon is estimated to have 90 million U.S. subscribers, but only 26 million of them used its video service between late 2014 and early 2017. That indicates there's room to grow in the U.S. for both Netflix and Amazon, especially as more people cut the cord on cable.