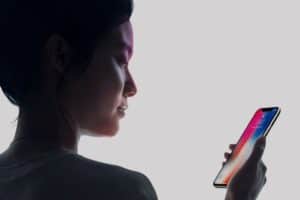 According to reports from multiple suppliers, Android devices are at least two years behind Apple when it comes to setting up face-identifying tech on the level of Apple's Face ID.
Apple introduced Face ID in last year's iPhone X as a replacement for the absence of the long-running Touch ID. Face ID uses an array of cameras and sensors housed in the iPhone X's notch to quickly identify your face and unlock your phone. It's not just simple face-recognition — the TrueDepth tech actually sees the 3D model of your face, and will only unlock if it recognizes you perfectly.
It's not perfect, and it's not always faster than Touch ID — but it's still a heck of a technological feat and one that Android phones may have to wait up to two years to emulate, according to statements from suppliers whose parts are integral to the tech used in Apple's Face ID setup.
What was the key to Apple's lead? Simply, Apple's aggressive strategy in monopolizing as much of the supply of these components as possible. According to parts manufacturers Viavi Solutions Inc, Finisar Corp and Ams AG, there simply aren't enou-gh parts to go around yet, and that "bottleneck" will mean that mass adoption of 3D-sensing tech will be pushed back at least a year. The report points out that vertical-cavity surface-emitting lasers, or VCSELs, are particularly scarce, with Viavi being the only major supplier of the required optical filters.
Other aggressive moves from Apple include the investment of $390 million into VCSEL-maker Finisar that ensured Apple's supply of that particular tech, and similar moves to secure cobalt needed for batteries.
It's clear that most companies in that particular area are gearing up for a large expansion in the coming years. Tech research firm Gartner predicts that 40 percent of all smartphones will be equipped with 3D-sensing tech by 2021, and component makers are reacting according, with Lumentum and Finisar, in particular, expecting to see large growth during the opening months of 2019.
Android phones have had some form of face-sensing tech for years — however, Apple's Face ID has been lauded for taking it to the next level, with true 3D-sensing capabilities that is harder to fool than traditional tech. While Samsung introduced a new hybrid biometric that combines iris and face scanning in its Galaxy S9, it's still a far cry from Face ID.