Ford Motor Company (NYSE: F) is upping its safety game. The Blue Oval said that over the next few years, it will make a suite of advanced driver-assist systems standard on nearly all of the vehicles it offers in North America.
Ford's plan is a direct response to mass-market archrivals Toyota (NYSE: TM), Honda (NYSE: HMC), and General Motors' (NYSE: GM) Chevrolet brand, all of which are already making some of these systems standard on their own vehicles. But Ford says that its system, which it's calling Co-Pilot360, goes a few steps beyond the offerings from its rivals.
Here's what we know.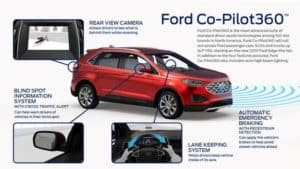 Ford's Co-Pilot360 safety suite will be standard on nearly all Ford and Lincoln vehicles in North America by 2020. Image source: Ford Motor Company.
What's included in Ford's new Co-Pilot360 package
Here's what Ford will include in the new Co-Pilot360 driver-assist suite:
Automatic emergency braking with pedestrian detection: When the system detects a potential collision, it warns the driver — and then applies the brakes on its own if the driver doesn't respond quickly.
Blind-spot information system with "cross traffic alert": This system uses radar to watch a vehicle's blind spots, alerting the driver when there's a vehicle there. The "cross traffic alert" warns the driver if it detects oncoming traffic while backing out of a parking spot or driveway.
Lane-keeping system: If the vehicle drifts toward lane markings, the system warns the driver — and in some circumstances it can help steer back toward the center of the lane. It also monitors the driver, and sounds alarms if it determines that the driver isn't paying adequate attention.
Automatic high beams: This system automatically turns on the high-beam headlights if it's dark and no other traffic is present, and automatically dims them if it detects street lights or another vehicle.
Reverse camera: This is already standard equipment on vehicles sold in the United States, but it'll be added to vehicles in other markets as part of this package.
Ford will roll out the Co-Pilot360 system across most of its product portfolio as vehicles are updated. It will debut on the refreshed 2019 Edge SUV this fall, and will be standard on 91% of Ford vehicles by 2020, the company said.
How the system compares with rivals' offerings
Ford released a little chart comparing Co-Pilot360 with the standard features offered by its three rivals. All three already offer reverse cameras (as does Ford), but the packages differ from there.
Toyota's offering, called Toyota Safety Sense, is the most similar to Ford's, lacking only the blind-spot system (Toyota offers a blind-spot system as an option). Honda offers a lane-keeping system as a standard feature, while Chevrolet currently makes only the rear camera standard.
The takeaway: It's not groundbreaking, but it's important
To be fair, Co-Pilot360 doesn't exactly break a lot of new technical ground. Really, it just repackages a bunch of existing technology. But it's still something of a big deal.
By making these features standard on most of its vehicles, Ford will make more of its vehicles safer — and raise the competitive bar for rivals. The system will also help Ford's customers get more comfortable with the idea of vehicles that drive themselves. While Ford plans to introduce self-driving technology to its commercial vehicles first, it does expect to roll it out to its retail customers in time.
Most importantly, making these systems standard now is a clear win for consumers. It's also a selling point that could give Ford's sales a nudge upward as the Co-Pilot360 suite rolls out across the Ford lineup.