Polio vaccine must be administered before a child turns 6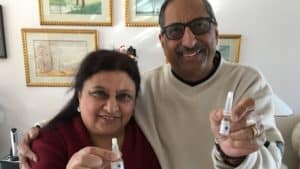 Aruna and Shiva Koushik spent much of their trip to Pakistan jumping on and off of buses in search of children without a dab of purple on their pinky finger.
The LaSalle couple travelled there last month on a humanitarian mission to take on polio and recently returned with some exciting news.
"We are going to see polio extinct in Pakistan, pretty much," said Shiva. "Previous years, we used to have hordes of children coming to us, but now we were lucky to get about 100 kids throughout the trip."
LaSalle couple heads to Pakistan to help eradicate polio
The Koushiks helped fight the disease by giving children two drops of the vaccine.
They focused their efforts at transit terminals where hundreds of buses arrive every day, carrying poor, transient children who may have missed the vaccine in the past.
The vaccine must be administered before a child turns 6, according to Aruna. Children who have already had their drops are marked with a purple dot on their finger.
"The beauty of the drops is you could give 20,000 drops, it won't hurt the child, but if you don't do those first two drops the child could be vulnerable," he added.
The couple said the battle against the disease is much further along than it was during previous trips.
Shiva added many communities have worked out a system where volunteers are trained to be the local source of the vaccine.
"They are recognized, they are trusted and they have no problems accessing every child in that area."