A new course introduces artists to 3D printers, laser engraving and computer programming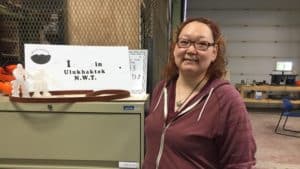 A new course in Inuvik has given artists a way to expand their skills by fusing art with technology and manufacturing techniques.
Ten people from the Beaufort region are taking the course that provides them with new skills. including Adobe Illustrator, 3D printing, laser engraving, woodworking and silk screening.
All of the students have a background in the art and crafting part — it's the technology that's new for them.
Gail Raddi is one of the artists taking the 10-week program.
She's a crafter who sells most of her work at Inuvik's annual Christmas craft fair. She has a full-time job, but wanted to learn about the new technology.
"The laser printer I really like," she said.
"Before I came in here, I didn't know nothing about using the illustrators or 3D printers, and now I'm pretty good at it."
Raddi is also a Master Cpl. with the Junior Canadian Rangers program, and says she's produced mini-target boards for her Rangers to help them with shooting.
"I had some messages from other patrols asking if I can make it for them as well," she said.
Raddi isn't the only one who has been getting positive reaction from the products she's made.
Leanne Kuptana came from Ulukhaktok to participate in the course.
"I'm just posting my artwork, and showing how proud I am of what I've been doing," she said.
"It has opened up my creation world to something new, something different."
Both participants and organizers say they are being inundated with phone calls and messages about how others can participate in the program.
"My phone is ringing off the wall," said Sue McNeil, manager of the Inuvialuit Community Economic Development Organization, one of five organizations paying for the program.
McNeil says she hopes to have another program that's similar to the current one going forward. She also wants to create a space for people to produce items with their new skills.
"We want it to be sustainable," McNeil said.
"We want to ensure the 10 people who've gone through are also supported as they move forward."
The Inuvialuit Community Economic Development Organization, Gwich'in Tribal Council, Inuvialuit Regional Corporation, Aurora College, and the Northwest Territories government are funding the project.
The program ends March 23. Organizers say they hope to have an exhibition so the public can view the artwork.