Province's jobless rate down 1/10th of a point to 4.7% over past month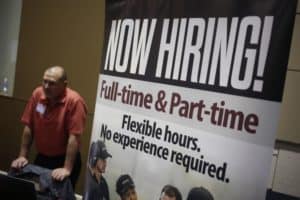 Statistics Canada figures released this morning shows that British Columbia continues to have the lowest unemployment rate in Canada.
B.C.'s jobless rate for February was pegged at 4.7 per cent, down one-tenth of a point since January and well below the national rate of 5.8 per cent — which also dropped one-tenth of a point last month.
Canada's unemployment rate nudges down to 5.8% in February
Since February 2017, the B.C. unemployment rate has dropped four-tenths of a point, from 5.1 per cent.
Statistics Canada says the economy added 15,400 net new jobs across the country last month, although most of those positions were part-time jobs.
Across B.C., only Victoria saw a hike in unemployment, with its rate up half a per cent to 4.4 in February, compared with 3.9 the month earlier.
Kelowna's jobless numbers dropped dramatically to 5.8 per cent — seven-tenths of a point below January's 6.5 per cent mark.