Thunder Bay, Ont., street ministry will put extra money into daily programming
A street ministry that relies on donations and fundraisers to pay for its work with Thunder Bay's homeless and other marginalized people won't need to worry about making its mortgage payment any longer.
And it's all thanks to an anonymous donor.
Gary Macsemchuk, pastor at Grace Place, said someone has donated about $174,000, allowing the organization to pay off the remainder of the mortgage on its Simpson Street building.
"It brought tears to my eyes," Macsemchuk said of his reaction when he found out about the donation last week. "Disbelief, and just overwhelmed."
"There's such generous people in the city of Thunder Bay."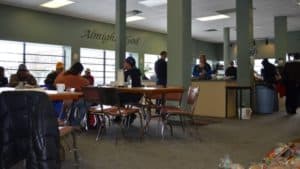 Macsemchuk said the donation came about through his discussions with Bonnie Moore, executive director of the Thunder Bay Community Foundation, which helps people donate to community organizations like Grace Place.
"I was looking for some funding for a plumbing project for a hairdressing sink," he said. "She just happened to ask what the other needs more, and I mentioned our mortgage, and I mentioned some other … things we were going to do."
"She says 'leave that with me.' So I expected to hear about our sink funding, and she called and mentioned that an anonymous donor had stepped up and paid the mortgage off."
'So very, very grateful'
Macsemchuk doesn't know who the donor is. Moore said it's someone with a strong connection to the community.
Macsemchuk said he shared the news about the donation with the people who make use of Grace Place during the organization's Sunday service last weekend.
"Everybody just couldn't believe," he said. "We're so very, very grateful."
He said Grace Place's mortgage payments were about $1,200 a month. That money will now go to its programs.
"It'll put more money into our feeding programs," he said. "During the week, we serve a number of meals on Mondays, Tuesdays and Wednesdays."
"It's going to put money into that everyday operating expense."
Operational funding important
Macsemchuk offered his thanks to both the donor, and to the Thunder Bay Community Foundation for its role in facilitating the donation.
Moore said she hopes the donation will prompt others to consider making similar donations to community organizations.
"This is pretty significant, because it's paying off a mortgage," she said. "A lot of donors want to give for programs, but nobody wants to give for operations."
"I'm hoping that what a lot of donors will realize and think about is all of these charities, every charity, has to operate."