'It's the heart of Kennedy. These students and their stories makes us what we are'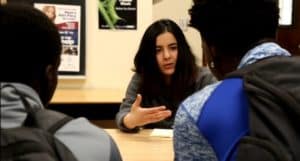 A local storytelling project inspired by the popular Instagram profile Humans of New York is providing an outlet for high school students in Windsor to share their remarkable stories.
Humans of KCI tells the tales of students at Kennedy Collegiate Institute and offers an opportunity for teenagers to learn the backstory of some of the people they sit next to in class every day.
'These stories make us who we are'
The stories gathered during the first round of interviews, which was completed in the fall, were transformed into a display in the centre of the high school. Maya Beydoun is working to interview more students for an addition to the project.
"I feel like it's really important to capture what Kennedy really is," she said. "We're a school that's incredibly diverse."
Twenty-two profiles hang on the wall of the second floor of Kennedy. Students, teachers and visitors all get a chance to learn more about the people who make up the high school.
"It's the heart of Kennedy," she said. "These students and their stories makes us what we are."
Maya Beydon is in her last year at Kennedy. She wanted to be apart of the experience of sharing the stories of her fellow students and said she's learned some things that have caught her by surprise.
Akot Aken moved to Windsor from Sudan when he was just a child. He is on the basketball team at Kennedy Collegiate. It means a lot for him to play, both on and off the court.
Abdullah Jawad moved to Canada from Iraq in 2011. When he was three years old he was kidnapped by a neighbour who had an issue with his parents. He said he was taken to a place American solders were not allowed to go and was put on top of a roof for five days. His parents paid $20,000 to get him back.
Aimee Saucedo was born in America. In 2009, she and her mother moved to Canada. She said they were homeless for three weeks before the Salvation Army was about to find them a room. Food was hard to come by, so to take their mind off of the hunger, her mother bought Monopoly at a thrift store. They would play when they couldn't afford a meal.
Edward Shipman doesn't stand for the Canadian national anthem. He said he was taught about the residential school system and how poorly Indigenous people were treated by Canada.