The technology sector isn't the ideal place for income investing because companies in this sector often carry very low yields. Tech companies usually reinvest earnings into their businesses to stay ahead of the curve, so the sector's average yield is just 1.26%.
The low payout of tech stocks will discourage income investors, especially considering the volatile nature of the sector. But there are a few hidden gems that could become lucrative dividend plays in the long run, including chipmakers NVIDIA (NASDAQ: NVDA) and Skyworks Solutions (NASDAQ: SWKS).
Here's why income investors should take a closer look at these two tech stocks:
NVIDIA
Graphics specialist NVIDIA is known for attacking fast-growing markets such as self-driving cars, data centers, artificial intelligence (AI), and video gaming. These have helped the chipmaker record blistering growth of late, but when it comes to paying a dividend, NVIDIA has been miserly.
The stock's dividend yield is currently just 0.25%, way below the tech sector's average. NVIDIA rivals Intel (NASDAQ: INTC) and Qualcomm carry more respectable yields of 2.6% and 3.5%, respectively. You could argue that NVIDIA is trying to play conservative because it is targeting highly competitive markets where rivals are always trying to step up their game, therefore they need capital available to invest in research and development to stay ahead of the curve.
But a closer look at the company's balance sheet and recent financial performance indicates that it can easily raise its dividend to more-respectable levels. NVIDIA currently holds $7.1 billion in cash, enough to cover its total debt of $2 billion. This strong balance sheet is complemented by NVIDIA's robust free-cash-flow profile.
In fiscal 2018, the company generated $2.9 billion in free cash flow and paid out just $341 million in dividends. This was almost double the free cash flow generated by the company in fiscal 2017. But it paid out only 11.7% of its free cash flow in the form of dividends. NVIDIA's dividend payout accounted for just 11% of its annual net income in fiscal 2018.
By comparison, rival Intel generated $10.3 billion in free cash flow last year and paid out almost half of it ($5.1 billion) as dividends. Not surprisingly, Intel has a stronger dividend payout ratio than NVIDIA, paying out around 54% of its free cash flow. This means that NVIDIA could easily quadruple its dividend if it scales up its payout to Intel's levels.
During fiscal 2018, NVIDIA's revenue shot up 41% year over year, and net income increased 83% on a GAAP basis. Such rampant growth has boosted the graphics specialist's free cash flow by a big margin, while rival Intel struggles on this front because of a sluggish PC market.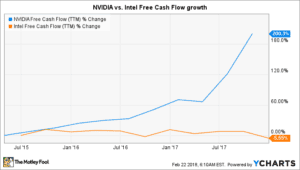 The company seems to be doing the right thing by saving money to reinvest in its business and thus counter any potential disruption in its rapid growth from emerging threats. Still, when NVIDIA feels that it has established its domination in emerging tech trends such as AI, it could decide to return more capital to shareholders and raise its dividend substantially.
Skyworks Solutions
Skyworks Solutions isn't as tight-fisted as NVIDIA with its dividend, but it definitely has the potential to increase the payout like its industry peer. Skyworks currently sports a dividend yield of 1.21%, which is in line with the tech sector's average. But the chipmaker paid out just 21% of its earnings in the form of dividends last fiscal year.
Meanwhile, its payout as a percentage of free cash flow generated last fiscal year stood at just over 18%. Skyworks' balance sheet and recent growth clearly indicate that the company is in a great position to boost its dividend. It is debt free and is sitting on almost $1.7 billion in cash. Additionally, it delivered impressive financial growth last quarter.
Skyworks' revenue increased 15% year over year in the recently reported first quarter, boosting its non-GAAP net income by 23%. Looking ahead, Skyworks can sustain this impressive momentum thanks to catalysts such as the Internet of Things (IoT) and smartphones. These factors could help Skyworks increase its earnings at a compound annual growth rate of 15%, according to Yahoo! Finance. A stronger earnings performance should also enhance Skyworks' free cash flow generation, which has been rising at an impressive pace.
However, just like NVIDIA, Skyworks is probably holding back because of the rampant competition for IoT and smartphone chips. Rivals such as Qorvo and Broadcom have been consistently trying to corner more of the end-market opportunity through their product development moves.
This is why Skyworks needs to bring its A-game in these fast-growing markets. For instance, the IoT chip market is expected to clock an annual growth of 16% for the next five years, and Skyworks will definitely not want to miss out.
But Skyworks' pristine balance sheet, improving cash flow profile, and strong financial growth should ensure that its dividend keeps growing. In fact, the company declared a 14% increase in its dividend in July last year, doubling NVIDIA's 7% hike in November 2017. If Skyworks keeps increasing its dividend at this impressive pace, it could turn out to be an attractive bet for income investors in the long run.
So, investors looking for dividend plays in the tech sector should definitely follow NVIDIA and Skyworks Solutions even though they have been conservative with payouts. Both generate strong free cash flow and are reporting impressive revenue and earnings growth — ideal conditions for dividend growth.