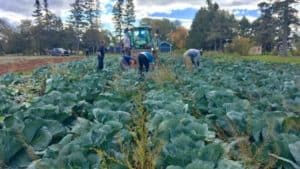 P.E.I. high school and university students looking to earn some extra cash toward their education are being encouraged to consider jobs on Island farms and seafood processing plants.
P.E.I. Farm Team is a new program coming this summer to help fill jobs on Island farms and agricultural processing operations.
Along with the wages they earn, students also receive a bursary: $500 for students going into Grade 11 or 12 in September, or $1,000 for students going into post-secondary this fall.
P.E.I. Farm Team is an expansion of the Team Seafood program, launched in 2016. It provided bursaries to more than 100 students last year.
"We were approached by the province to take a look at trying to do it because of the success of Team Seafood," said Laurie Loane, executive director of the P.E.I. Agriculture Sector Council.
Filling labour gaps
"We have so many farms already calling and asking how they can do this."
Loane said the bursaries will also be available for agricultural production operations, such as potato plants and apple orchards, and will help fill what she calls labour gaps.
"It depends on the commodities, sometimes we have dairy farms that are looking for people and they have a hard time because it's early hours in the morning," Loane said.
"Our fruit and vegetable growers, they sometimes have hard time just because it's labour intensive."
Loane said students with Team Seafood have returned the following summer, something she hopes will happen with agriculture as well.
"They've had great success over the last couple of years that they've been doing it, it's continuing to build and it's something that keeps the students coming back and working at the plant," Loane said.
"If you can get a student in Grade 10 or 9 that is super interested in agriculture and then that student stays with you for the duration of their schooling, that solves some of your HR issues that you're constantly having on the farm."
Loane hopes the Farm Team will also encourage Island students to consider a future in agriculture.
"If this can entice them to get involved in agriculture at an earlier age and keep them in agriculture, then that also ends up in full time jobs for these students down the road in agriculture which is a field that's continuing to grow," she said.
The new program, as well as Team Seafood, are funded by the federal and provincial governments and the participating sectors.
They're hoping to attract up to 350 students this summer.