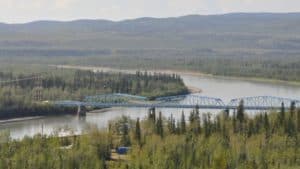 The Yukon Government has proposed a multi-year plan to reconstruct portions of the North Klondike Highway, from Pelly Crossing to Dawson City, according to a funding proposal acquired by CBC News through an access to information request.
Seeking federal funding
The total cost of the project would be about $121 million. The document states that $30 million would come from the Yukon government, which has requested the remaining $91 million from the federal government through the National Trade Corridors Fund.
The project would involve widening the road, as well as strengthening and improving the safety of embankments. It would also include replacing the deck on the McCabe Creek Bridge, at a cost of $2.3 million.
If approved, construction would start in 2019, and would be split into ten yearly projects.
Would serve mines and communities
The existing highway was built in 1978. The document states it doesn't meet guidelines for a 90 km/hour highway, due to substandard sight lines, shoulders and guide rails and a road surface type that isn't ideal for hauling freight — meaning trucks are limited to seventy-five per cent of legal loads in the spring.
Dawson City is the only major Yukon community not served by a highway that is able to manage 100% legal loads year-round.
The document says investments in the highway would support Yukon community residents, maintain a crucial link to the Arctic Ocean, as well as the N.W.T communities of Tuktoyaktuk and Inuvik and service several mining projects set to ramp up in the next few years.
A spokesperson for the Yukon government told CBC News it does not anticipate a decision from the federal government for at least another month.