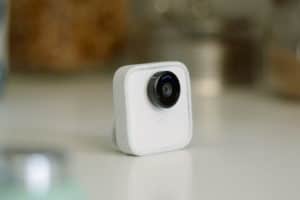 Google's Clips smart camera is now available. Unveiled in October, 2017, the diminutive device can be yours for $249 via the company's online store and also from Best Buy, B&H, and Verizon.
Extras sold alongside Clips include the Incipio mount case and tripod priced at $15, and the Incipio carrying case, also costing $15.
If the whole Clips thing passed you by, it's basically a tiny camera that you attach to objects around the home, leaving it to periodically and automatically snap shots of you and anyone else as you go about your day. That may creep some of you out, but watch Google's ad (above) and you'll see it's all sweetness and light, with happy families' hijinks recorded to Clips' internal storage so you can enjoy them again later.
The interesting part is that Clips is powered by an A.I. engine that recognizes "great expressions, lighting, and framing," and improves with use. It also learns your people preferences by analyzing which images you save the most. Over time, its shutter will fire more often when it detects the right conditions, the aim being to provide you with content you'll want to keep.
Google's camera, as its name suggests, creates short video-like snippets that the company calls "motion photos." They last about seven seconds each and play without audio. You can save and share each clip, as well as pick out and save any individual frames that catch your eye. Files are stored on Clips' 16GB of onboard storage that at launch can be transferred to a limited number of Android and iOS mobile devices.
The battery should keep Clips firing away for up to three hours, which means it could last a day or several weeks depending on what kind of action takes place in front of it.
Finally, the lens has a 130-degree field of vision and features lens occlusion detection that sends an alert to your smartphone if the lens becomes blocked by a nearby object such as Rover's tail or a mug of coffee.
Google hopes Clips will be a hit with families, allowing everyone to be in the shot rather than Mom or Dad always disappearing because one of them is taking the picture. And there'll be no more fiddling about with timers and trying to squeeze into an awkward-looking selfie.
Clips is definitely after those candid moments.