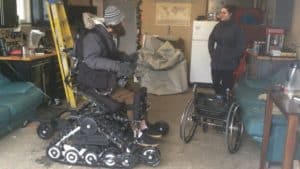 A high-tech wheelchair — and a significant fundraising campaign led by his sister — is giving 23-year-old Joshua Batson some of his freedom back on the trails in central Newfoundland.
The outdoorsman is now equipped with an Action Trackstander all-terrain wheelchair, which he says is much more like a "mini-tank." The power wheelchair has tracks designed for movement in the snow and mud, and can be outfitted with numerous attachments: A gun holder, backup battery and headlights.
"It pretty much puts me anywhere that someone in a quad could go," he said. "Having the ability just to have full control in it at all times, just to use it anywhere."
The wheelchair, which cost about $24,000, was financed in part by a fundraising campaign led by his 18-year-old sister. Shae Batson said through fundraisers in Gander, her family raised abut $18,000 towards the price of the machine.
"Everybody came together, but my sister has definitely been the biggest part," Joshua said.
Long time coming
Joshua said he had been searching years for tools that would make the outside world — beaches and woods — more accessible.
Two weeks before his 19th birthday, Batson broke two vertebrae in his spine when he fell from an inside balcony at a friend's cabin. That injury, which he calls a result of being in "the wrong place" at the "wrong time," left him paralyzed in his legs.
That meant a lot of changes for him and his family, like the two years he said it took to fully master how to move in a wheelchair.
"You pretty much got to replan your whole life, honestly," he said. "From your house to your career, possibly, to your diet and exercise habits."
It also meant a lot of change for some of his favourite activities: hunting and fishing with family and friends.
"It would really restrict you on how you would have to do it," he said, explaining that while hunting or fishing, he would have to move in on a vehicle, and could only independently move via wheelchair in small cleared areas.
With the recent arrival of the Trackstander chair, that's changing.
"I can go through a trail, I can go through the woods," he said. "It's just that extra little bit of freedom that you just don't have to think about."
Community effort
Though her brother disagrees, Shae says she can't take much credit for the fundraising campaign which she launched in 2017.
She said her family got a lot of help from the people of Gander, from individual donations to fundraisers held at community businesses and groups like the Oasis Lounge, Jungle Jim's, Gander Collegiate and the Masonic Lodge.
"I never doubted that Gander was the best town, but everyone definitely showed me that again when they came out with their support and they helped in many ways."
For Josh, seeing his younger sister take the lead in a big fundraising effort has made him rethink their bond.
"I've always had a lot of respect for Shae, but definitely I can see how much she really appreciates our relationship."
"She's a big sister to me, definitely. It feels like she's my age in her maturity. She doesn't act like like a little sister, being a twerp and stuff."
"Maybe I used to, we were five years apart," she said. "You wouldn't say that 10 years ago."