Opportunities NB will provide $1.5M in payroll rebates to help company nearly double its workforce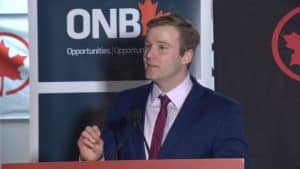 Air Canada plans to nearly double the workforce at its Saint John contact centre, creating up to 227 full-time jobs over the next five years with up to $1.5 million from the provincial government in the form of payroll rebates, officials announced on Monday.
The funding through Opportunities NB is performance-based and will only be disbursed annually when the jobs are created and maintained "for a period of time," said Premier Brian Gallant.
The company must provide proof of salary levels and employment, he said.
"So it's a great way to be able to protect taxpayers' money and at the same time ensure that we're putting incentives on the table to try to encourage investment and job creation in New Brunswick."
Kevin Howlett, Air Canada's senior vice-president of regional markets and government relations, described the payroll rebate as a "key enabler" for expanding the centre, which opened in 1996.
Hiring has already begun, with training classes underway, he said.
"We already have 300 on staff now, so we want to move to that 500 objective as quickly as we can. So you're going to see hiring continuing here over the next number of months."
Howlett said the company's "record year" has created the need for the additional business service agents in Saint John to handle complex reservations, passenger concerns or any other passenger "issues" 24 hours a day, seven days a week, 365 days a year.
The company launched 30 new routes and carried over 48 million passengers.
The unionized jobs pay "very competitive" salaries, said Howlett, without elaborating, and offer a "world class" benefits program, he said.
More than a 'call centre'
The positions are not the so-called call centre jobs of the past, said Gallant, noting his brother, sister and sister-in-law all work in the business services sector.
"There's some stigma around the industry, unfortunately," but the work has "changed immensely over the last few decades," he said.
"Nowadays we have very technical jobs, very complex jobs and jobs, with a lot of growth opportunities for the individual."
Gallant stressed the importance of the business services sector to New Brunswick. It employs about 18,000 and contributes approximately $1 billion to the provincial economy annually, he said.
The 227 new Air Canada positions will contribute an estimated $33.3 million to the province's GDP over five years and generate an estimated $3.5 million in provincial taxes over that same period, according to the government.
The company also plans to spend about $1 million on renovating the plant, located in Millidgeville, said Howlett.
The building's footprint will remain the same, but it will be modernized to make better use of the space and to provide a more pleasant work environment, he said.
The work is scheduled to begin next month, with the help of local contractors.