Thunderbird Friendship Centre in Geraldton will use the funds to expand programming to Longlac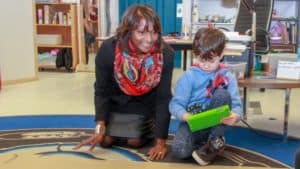 The Ontario government is spending $2.9 million on child and family programs for Indigenous people in the Thunder Bay district.
The funding was announced at a news conference Friday morning.
The Thunder Bay Indigenous Friendship Centre, Dilico Anishinabek Family Care, Anishnawbe Mushkiki, Bingwi Neyaashi Anishinaabek and the Thunderbird Friendship Centre in Geraldton will share the funds between them.
The Thunderbird centre plans to use its $800,000 allotment to bring its early learning programs to Longlac, executive director Karen Stephenson told CBC News.
"We have a lot of clients in the Longlac area that have a hard time getting to our programming in Geraldton due to the transportation issues, so this is going to allow us the opportunity to put a satellite office in Longlac," she said.
Preparing children for elementary school
The program will offer language and cultural programs for children and life-skills training for parents, she said.
"I feel great because it's just something that we've always wanted. I think it's well needed," Stephenson added.
"We need to concentrate a lot on the younger children and hopefully keep them on the right path going forward."
Anishnawbe Mushkiki received funds for its "EarlyON" program, which will provide needs assessments and referrals to children under the age of seven in order to prepare them for elementary school.
"It's quite exciting because I think the whole area of education will make a big difference to the success rate of our Indigenous population," said executive director Micheal Hardy. "There will be some kids who will move through the system and come out the other end with post secondary and maybe [be the] doctors that we need."
$10.2M for Kenora district
The funding is part of a $70 million package announced two weeks ago by the Ontario Ministry of Education geared toward increasing childcare spaces and early childhood programs for Indigenous families.
It's part of the province"s Journey Together initiative, aimed at addressing the legacy of residential schools and reconciling relationships with Indigenous people.
The Kenora District Social Services Administration Board will receive $10.2 million over two years as part of the same initiative, according to Jeff Dean, a spokesperson for the Minister of Northern Development and Mines.
The province is also working with Rainy River on a project to be finalized shortly, he said.