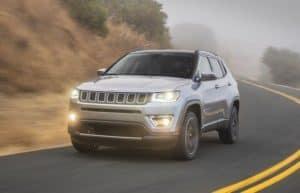 Will Fiat Chrysler Automobiles (NYSE: FCAU) beat out old rival Ford Motor Company (NYSE: F) in 2018?
FCA had a good 2017. It said on Jan. 25 that its adjusted pre-tax profit rose 16% in 2017, to 7.05 billion euros ($8.67 billion), on profitability gains related to improvements in product mix. Revenue of 110.93 billion euros ($136.38 billion) was down slightly from its 2016 result.
But as good as 2017 was for FCA, CEO Sergio Marchionne expects a better year in 2018. He even thinks FCA's operating profit could beat Ford's this year.
FCA's 2017 result: The raw numbers
All financial results are shown in euros. As of Feb. 23, 1 euro = about $1.23.


Data source: Fiat Chrysler Automobiles. FCA's expression of "adjusted EBIT" excludes one-time items from the standard calculations. Vehicles shipped include totals from FCA's joint ventures with Chinese automakers and are rounded to the nearest thousand. "Ppts" = percentage points.
An all-new and much-improved Jeep Compass helped boost FCA's margins in 2017. Image source: Fiat Chrysler Automobiles.
FCA's margin continues to improve
FCA beat Ford on one front in 2017: Its adjusted EBIT margin of 6.4% was significantly improved from a year ago and came in ahead of Ford's 5.5% pre-tax result for the year.
But FCA still has some way to go to catch the profitability of its largest global competitors. General Motors (NYSE: GM) reported a margin of 8.8% for 2017 on a similar basis; Volkswagen AG reported a margin of 7.4% for 2017, also on a similar basis; and Toyota (NYSE: TM) had an 8.1% operating margin for the three quarters ended Dec. 31, 2017, the first three quarters of its fiscal 2018.
How FCA's business units fared in 2017
All income numbers for FCA's individual business units are presented on an "adjusted EBIT" basis.
NAFTA: FCA's North American business unit earned 5.23 billion euros in 2017, up 1.8% from its year-ago result. Its EBIT-adjusted margin of 7.9% was up 50 basis points (half a percentage point) from 2016. Shipments were down 7%, a drop that FCA attributed to a planned reduction in sales to fleet customers, partially offset by increased sales of Ram pickups and the Jeep Cherokee and Compass SUVs.
LATAM: FCA's Latin America unit earned 151 million euros in 2017, up from just 5 million euros the year before. Its margin of 1.9% was 1.8 percentage points better than in 2016. Shipments increased 14% year over year, to about 521,000, on improving economic conditions as well as strong sales results for the all-new Fiat Argo and Jeep Compass.
APAC: FCA's Asia, Pacific, Australia, and China unit earned 172 million euros in 2017, up 64% from 2016. FCA's consolidated shipments in the region, excluding output from its Chinese joint ventures, fell 7% to about 85,000 — but its total shipments, including the China JVs, rose 24% to about 290,000. The explanation: FCA reduced imports of Jeeps to China after increasing local production. That also explains the region's 11% decline in revenue, to 3.25 billion euros: Results from FCA's joint ventures in China aren't consolidated into its overall results; they're reported as equity income.
The region's adjusted EBIT margin increased to 5.3% from 2.9% in 2016.
EMEA: FCA's Europe, Middle East, and Africa unit earned 735 million euros, up 36% from its year-prior result, on a 5% increase in shipments to about 1.37 million vehicles and improvements in product mix. The key drivers: strong demand for the new Jeep Compass and Alfa Romeo Stelvio SUVs.
The region's adjusted EBIT margin rose 70 basis points from 2016, to 3.2%.
Maserati: FCA reports results for its luxury Maserati brand on a global basis. Maserati earned 560 million euros in 2017, up 65% from 2016, on a 22% year-over-year increase in shipments to about 51,500 vehicles. Revenue rose 17% to 4.06 billion euros. Maserati's margin in 2017 was a healthy 13.8%, up from 9.7% in 2016.
Components: FCA's components subsidiaries — Comau, Teksid, and Magneti Marelli — together earned 536 million euros in 2017, up 20% from the year prior. Revenue rose 5% to 10.12 billion euros, and the unit's margin was 5.3%. FCA attributed the year-over-year gains to higher sales volumes and manufacturing cost improvements, mainly at Magneti Marelli.
FCA expects the all-new 2019 Ram 1500 to help boost its profit and margin again in 2018. The new Ram is expected to begin arriving at U.S. dealers next month. image source: Fiat Chrysler Automobiles.
CEO: We could beat Ford in 2018
Marchionne was upbeat about FCA's chances of hitting some key milestones in the year ahead.
I think we're looking forward to finally, hopefully, walking into this meeting in Q2 and telling you that we no longer have [net industrial debt]. That's something that [CFO Richard Palmer] has taken on as a personal sort of objective to beat everybody into a cash delivery mechanism in the second quarter of this year to make sure that we can shed this debt or history that we've had now for quite a while. So I think it's going to be a big day here when we get there.
I've looked at, by the way, the guidance coming from our competitors in Detroit. I think there's a very strong likelihood that we will outperform Ford in terms of operating earnings in 2018. And that's something that if I told any of us in the room here that would have been doable five years ago, nobody would have believed us.
Looking ahead: FCA's guidance for 2018
For the full year, FCA expects:
Net revenue of roughly 125 billion euros.
Adjusted EBIT of at least 8.7 billion euros.
Adjusted net profit around 5.0 billion euros.
Net industrial cash (rather than debt) of around 4 billion euros.
Simply put, FCA expects solid year-over-year gains driven by launches of key new products, including all-new versions of the Jeep Wrangler SUV and Ram 1500 pickup, as well as a revamped Jeep Cherokee SUV