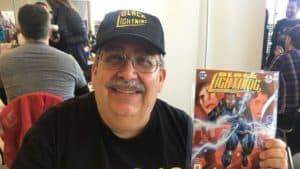 The man who created the first black superhero at DC Comics is in Windsor to promote diversity in entertainment.
Tony Isabella wrote the comic book Black Lightning, which has since been made into a television series.
The book is about a black school teacher who acquires electrical superpowers through a technologically-advanced power belt, which he then uses to clean up crime in his neighbourhood.
Isabella grew up in the heavily-segregated west side of Cleveland, Ohio. He said he met his first black friends at a comic book club he'd started.
"I thought it was unfair that there weren't more black heroes for my friends. So I determined if I ever got into comics, I would adjust that and create more characters of colour," he said, sitting at his booth at the St. Clair Centre for the Arts during the Comic Book Syndicate.
Isabella said he wanted to give black kids the opportunity to finally see themselves represented in comics. That's also why he kept the issues in the book realistic, even if it the story takes place in a superhero universe.
"I go to conventions and I get hugged by people who are almost in tea," said Isabella. "And I often tear up too,"
'We needed to talk about these things'
Jolie Inthavong, event coordinator for the Comic Book Syndicate, said even though films like the Black Panther have provided more diverse representation in the entertainment industry over the last few months, there's still a long way to go.
"We needed to talk about these things. The world is ready to just talk about it," she said.
And that's what Isabella plans to do more of.
"Whenever I have a chance to introduce a diverse character into the cast or the supporting cast, I am going to be doing that," Isabella said.
"I think that is the right thing to do, and I think it is good for business."