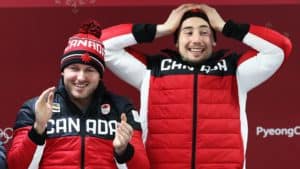 Minutes before the biggest race of their lives, they did the same thing they always do.
Justin Kripps sniffed peppermint aromatherapy to sharpen his senses. Alex Kopacz listened to classical music — a Beethoven symphony, to be exact.
They made eye contact, twice, just before pushing out of the blocks for their fourth and final run of the Olympic two-man bobsleigh event on Monday night in South Korea. Holding a lead of just six hundredths of a second over the top German team after the third run, Kripps and Kopacz knew their margin for error was razor thin.
Their newly painted red sled, inspired by the paint job on the Royal Canadian Air Force's CF-18 Demo Hornet, blasted down the track. At the finish line, fans watched and roared every time the splits flashed up on the screen. Kripps, the Hawaiian-born pilot who now lives in Calgary, and Kopacz, the brakeman from London, Ont., fell just behind in the early part of the race. Soon, they were in the lead. No one knew what lay ahead.
Ice shot into the air as the Canadian sled screamed past the finish line and screeched to a halt — a cloud of crystallized confetti surrounded Kripps and Kopacz.
Their time went up, displaying a stunning result: after four runs, over two days, with their total times measured to the hundredth of a second, the Canadians had tied for the gold medal with Germany's Francesco Friedrich and Thorsten Margis.
The celebration was on. Kripps and Kopacz burst out of their sled and were mobbed by teammates, coaches and fans. People were screaming and cheering wildly.
"Within a couple minutes it was a sea of emotion, a sea of teammates and tears from my parents," Kopacz said.
There was confusion, too.
"The clock here is actually really difficult to see, but I managed to see the [number 1] on it," Kripps said. "People started piling onto the track and the Germans were excited too."
Kripps initially thought the Germans were just really happy for him and Kopacz, and for taking silver themselves. Then Margis told him they had tied.
"It's wild. Amazing. I can't believe it," Kripps said.
It took Kopacz longer to process what happened.
"I thought, that's it. We won. We did it. I didn't realize for minutes after. We were in the change room and I asked Thorsten, 'I'm not really clear what happened. Did we tie?'"
With just five hundredths of a second separating first place from third, this was the closest podium finish in Olympic bobsleigh history. It's also just the third time there has been a gold medal tie in the Olympic two-man race.
Proud teacher
Twenty years ago, at the 1998 Olympics in Nagano, Japan, Canada's Pierre Lueders shared gold with an Italian sled.
On Monday night, Lueders was at the track, coaching the Korean team. Before that, he was the man who helped Kripps begin his career.
"It's pretty incredible. Pierre was actually the one who taught me how to drive a bobsled and he was here to see this," Kripps said.
Lueders had nothing but praise for his student after the race.
"I fondly remember Justin in our bob school in October 2010," Lueders said. "He had a natural ability and feeling for driving. It was easy to see within the first few weeks he was naturally gifted to sit in the driver's seat.
"It's so special to identify someone with such talent who is so grounded. To see him as Olympic champion, I couldn't be more proud."
Perfect pairing
Away from the track, Kripps and Kopacz don't spend all that much time together — and they don't mind that one bit. Even when they do get to the track for competitions, they keep their distance. It just works for them.
"He lets me do what I need to do to be where I need to be," Kripps said. "I'm very calm and to myself. He's an intuitive guy and knows what I need."
Kopacz likes that he doesn't have to fire up Kripps.
"When it comes to competitions, outwardly I'm calm, but inwardly I'm anxious and excited," he said. "I like that I don't have to get in his face."
Going into the season, Kripps talked about the risks he would have to take on the very technical Pyeongchang track. But both he and Kopacz also stressed consistency.
"There are a couple sections where we knew if we were consistent we'd be good. But there were parts where I went for it too and we managed to do it," Kripps said.
They both say it's their obsession with perfection that allowed them to reach the top of the podium on the biggest athletic stage.
"Being meticulous is always useful and you saw that today. Every detail counts," Kopacz said.
Team victory
After the race, fellow Canadian bobsledder Jesse Lumsden was one of the first people to race onto the track to hug Kopacz and Kripps.
In what is likely his last Olympics, Lumsden would have loved to have been in the sled for the run. But being there at the line to celebrate with the two of them was just as sweet, he said.
"Kripps and Alex earned that gold medal over these past two days. It's a ton of pride and a ton of emotion. It's awesome. It's just awesome," Lumsden said.
This is a program that has battled through adversity. Last season was a tough one on so many levels for the Canadian team, including struggling to find the proper equipment to compete at the highest level. So when that golden moment came, Lumsden fought back tears.
"Canada is on top of the podium and we're going to hear the national anthem. I love this."