Real estate board warns city not to keep relying on land transfer tax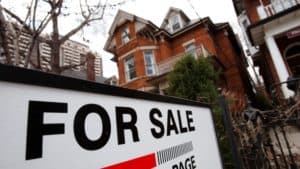 Toronto's mayor says this year's budget is "just right," but one critic argues failing to hike property taxes above the rate of inflation will make the city less affordable for everyone.
A 2.1 per cent property tax hike anchors the 2018 budget, which goes to city council on Monday. For an average homeowner, that amounts to about $81 more than last year.
Parkdale-High Park Coun. Gord Perks says he'll push to increase that rate to generate more money that can be put toward city services from the TTC to recreation to childcare, even if it's unlikely to pass.
'The quality of the services we're providing is getting worse. And that's going to wind up costing you money.'
– Coun. Gord Perks
"Right now, if you own a lot of real estate, the city of Toronto is a gold mine for you," Perks told CBC Toronto.
"If you're someone who's just trying to go about their business and live your life the city's becoming less and less affordable."
Mayor John Tory has rejected that notion. He says the budget will help homeowners and also includes "significant" spending in a number of areas, from shelters to recreation to two-hour transfers on the TTC.
For Tory, holding the line on property tax increases is something to tout as a campaign promise kept.
"We've restrained the level of increase in property taxation to the rate of inflation for four years in a row," he said at the last executive committee meeting.
Property taxes have been kept low for years
However, that rate has been held down for a decade now, with an average hike of just 2.4 per cent. City records show over that time the biggest increase was four per cent, approved by David Miller's administration in 2009. In 2011, Rob Ford froze the tax completely.
Toronto Real Estate Board (TREB) statistics show over that same time the average sale price of homes has more than doubled, leaping from $379,347 in 2007 to $822,727 last year.
In 2007 the city estimated the average tax bill was $2,175. This year, the estimate is just under $3,000.
Of course, as the value of homes has climbed — based on Municipal Property Assessment Corporation assessments — so have their bills. But Toronto still has the lowest property tax rate in the GTHA.
To make up for that, the city has in part been relying huge on proceeds from the Municipal Land Transfer Tax (MLTT) to balance its books. The fee, charged to buyers and sellers when a property changes hands, generated nearly $800 million in 2017.
City shouldn't rely on MLTT, says real estate board
Von Palmer, TREB's chief government relations and communications officer, warns that continuing to rely on the MLTT would be a mistake, especially given the changes in the city's housing market.
"The City of Toronto does have room to increase its property tax rates," he said.
"They can do that, but it's more of a political question."
Miller's administration approved the MLTT, launched in 2008, in part to avoid what then would have been a property tax increase of some 20 per cent.
Even back then, past media reports show, some Toronto residents were calling on the city to raise property tax rates to help pay for services.
Perks says he's hearing the same things today.
"The quality of the services we're providing is getting worse," he said. "And that's going to wind up costing you money."