60-camera system used to create lifelike three-dimensional representations
A Calgary company that offers doggy daycare and pet photography has gone 3D.
"It gives you a three-dimensional figurine that you can hold in the palm of your hand that looks exactly like your dog," managing director Brian Burke told CBC News on Monday.
"It's not as crazy as an action figure, more like fine china, would be a good way to describe the quality of it."
A golden retriever sniffs its replica, made by Calgary company GravityB 3D. (Monty Kruger/CBC)
Burke's company GravityB 3D, in northwest Calgary, embarked on a project a couple of years ago.
"We've owned a dog daycare for 14 years. I have been doing pet photography for about 11 years. About two years ago, I came across the idea of doing 3D prints. I've spent the last two years to get to this point," Burke explained.
And in those two years, the project has already grown.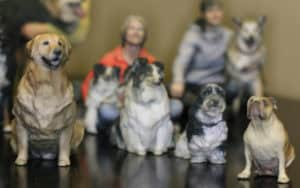 "I have changed from a 24-camera system, to a 36-camera. Now we are doing a 60-camera system. I needed to be able to record fast enough, so when the dog's tail is wagging, I need to be able to capture that. If there is motion in a 3D scan, the scan won't render properly. It actually lets your dog, be your dog. Whichever way your dog sits, the 3D capture, captures that."
The end product is a figurine, a few inches in height, that is a near perfect representation of a dog, a person, or both — but getting the dog to "play ball" is sometimes the challenge.
"There are special sounds you can make. There are treats you can use. We have a squeaky toy. We have little KONGs [hollow rubber toys] filled with peanut butter," Burke said.
"It takes a little bit to get the dog comfortable in this environment, but it's a fast process. If you know how to get the dog to pose and your timing is good, then I am pretty much guaranteed to get a really good pose."
Prices start at $125 for people and $150 for dogs. It takes about four weeks after the photography is complete.
"You can have your dog forever. You have your dog with you when you're not with your dog. You can bring your dog to work with you, you can bring your dog on a trip with you," he said.
"When your dog passes away, it's a three-dimensional representation of your dog."