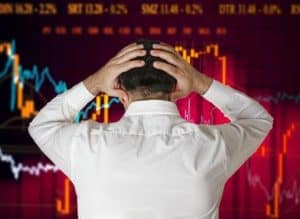 What happened
Wells Fargo (NYSE: WFC) was the recipient of an unprecedented and harsh penalty from the Federal Reserve in response to "widespread consumer abuses." They include not only the bank's infamous fake-accounts scandal, in which about 3.5 million accounts were fraudulently opened by thousands of employees, but also several other scandals that have been revealed over the past year or so.
In response to the penalties, Wells Fargo stock took a major hit, down about 10% for the day.
So what
The major part of the Fed's penalty is a growth restriction on the bank. Wells Fargo will not be permitted to grow larger than its total assets at the end of 2017 until "sufficient improvements" are made.
At a minimum, this will last through most of 2018. The exact procedure for the restriction to be lifted is unclear at this point, and we also don't know what will constitute sufficient improvements. Wells Fargo said the impact from the Fed's action could cost it $400 million in profit this year, but the uncertain impact and length is likely what's weighing on the stock most.
Now what
Wells Fargo is essentially losing its ability to grow just as we're entering the best environment for banks to grow that we've seen in recent history. Tax reform will add billions to bank profits, rising interest rates will translate into higher margins, and wage growth will result in more demand for loans, credit cards, and deposit accounts. Removing the ability to grow puts Wells Fargo (and its stock) at a significant disadvantage to its peers, at least for most of 2018.