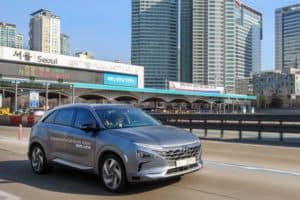 Future self-driving cars don't have to be pure electric vehicles, and Hyundai is determined to prove it. The automaker just had a five-strong fleet of Level 4 autonomous hydrogen fuel cars drive themselves 118 miles from Seoul to the Winter Olympics' home venue of Pyeongchang. That's the longest any self-driving vehicle has traveled at highway speeds (around 62-68MPH), the company claimed. Previously, they had to putt around at slower speeds, and frequently on limited road sections.
Three of the cars were shiny new Nexo SUVs (such as the one above), while the other two were more familiar Genesis G80 sedans. They were also showcases for cellular tech, with 5G inside for backseat smart home control, chat bots, streaming media and video calls with health consultants.
Is this a publicity stunt? You bet — Hyundai doesn't expect to commercialize Level 4 cars until 2021, with fully autonomous models arriving by 2030. Most of those will likely be pure EVs, too. And when 5G networks are just getting started, we wouldn't expect in-car gigabit data for a long while. Still, this helps demonstrate that driverless cars aren't limited to short city jaunts.