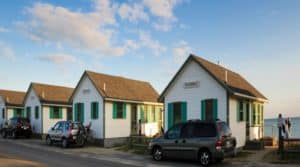 In 2017, Seattle set new records for both October to April rainfall and median home prices. If you browsed through the local real estate listings, however, you might get the impression that the city synonymous with Pearl Jam and precipitation is, in fact, a sunny oasis.
It's no secret that online listings occasionally embellish or obscure certain facts about a home or apartment on the market—we've all seen digital walkthroughs that hide a lack of natural light or use artsy fisheye photos to make a cramped studio look spacious. But apparently, Seattle realtors sometimes go so far as to engage in a Photoshop battle with nature itself in order to make the sale. One photo circulating on Seattle's dedicated subreddit depicts a craftsman home in the affluent Queen Anne neighborhood set against the backdrop of a splendidly blue sky. The only problem is that its facade is very visibly lashed by rain.
Local realtors admit that the practice is more of a standard procedure than buyers would hope. "It's likely that Seattle is leading the charge in this due to our rain and darkness," Windermere Midtown managing broker Michael Doyle told Curbed. "Photo editing, including enhancing light and removing clouds, is now more common than not."
The sophistication of image editing software makes it easy to pull off these sorts of tweaks—most of the time, at least. While some oppose the practice, it's common enough that nationwide real estate marketing companies like Planomatic include free blue sky touchups with purchase of its photography packages.
In a way, this is the digital equivalent of making a home smell like fresh baked cookies before an open house. Though the science is dubious at best, realtors in Seattle and beyond brighten up gray skies and freshen dead grass in order to create images that attract attention and engender positive psychological effects. Given how real Seasonal Affective Disorder is, it's not too much of a stretch to believe that we might subconsciously feel happier about a house basking in the sunshine than one hidden beneath ominous clouds. "The result isn't an artificial photo," Doyle says. "It's one that shows the property in the best light… literally."
Ultimately, it's not like you'd make such a significant purchase without visiting a listing and experiencing the local weather in a region firsthand. If you can't take Seattle at its rainiest, you probably shouldn't buy a house there—no matter how blue the skies are in all the listings. Just don't forget to pack an umbrella when you go to the walk-through!