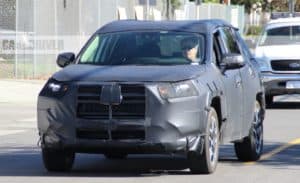 What It Is: A redesigned version of the Toyota RAV4 crossover, which in 2017 not only held the honor of being Toyota's top-selling vehicle in the United States but also beat out all other SUVs on the charts and came in as the best-selling non-truck vehicle in the entire country. Even more amazingly, the RAV4 that racked up those impressive numbers has been on the market in its current form since 2013. As evidenced by these spy photos, a new fifth-generation RAV4 is on the horizon with more rugged styling inspired by the FT-AC concept shown late last year. From what we can see through the camouflage, the new crossover shares its more squared-off greenhouse and blunt front end with that adventurous-looking concept.
Why It Matters: Even though it sells better than anything in its segment, the current RAV4 is decidedly behind the curve compared to fresher entries such as the Honda CR-V and the Mazda CX-5. The new model will have a tall task living up to these great-driving, tech-savvy rivals, but if Toyota's newest Camry is any indication, there should be considerable improvement on the dynamic front. We also expect Toyota to make a big push toward improving the RAV4's infotainment offerings—perhaps even including Apple CarPlay, which the brand is finally launching in the 2019 Avalon. The RAV4 also should benefit from the brand's recent effort to make active-safety systems standard on even base models.
Platform: The new RAV4 will share its modular Toyota New Global Architecture (TNGA) platform with several other Toyota models, including the new Camry, Avalon, C-HR, and Prius, which should result in sharper handling and a more comfortable ride compared with today's aging RAV4.
Powertrain: Toyota has not yet joined the industry trend toward small-displacement turbocharged engines, and we expect the RAV4 to continue to be a holdout. The most likely choice for the RAV4's base powertrain is the same 2.5-liter four-cylinder and eight-speed automatic transmission present in the 2018 Camry. The hybrid model is expected to continue, also sharing its drivetrain with the current Camry hybrid. We wouldn't hold out much hope for Toyota's strong 3.5-liter V-6 to make a return to the RAV4 lineup (the third-gen model, which ended in 2012, offered a V-6 as an option), considering that most of its competitors are four-cylinder only.
Competition: Honda CR-V, Mazda CX-5, Nissan Rogue, Chevrolet Equinox, Ford Escape, Subaru Forester.
Estimated Arrival and Price: The new 2019 RAV4's base price won't stray far from the 2018 model's $25,455 point of entry. Look for the new RAV4 to appear within the next few months, possibly as soon as the New York auto show at the end of March.