"I guess it's called landscaping in Victoria," homeowner says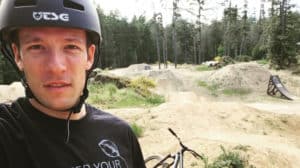 On a large, leafy lot in the exclusive Uplands neighbourhood of Oak Bay, B.C., Hugo Donais is realizing a childhood dream.
The financial advisor and former pro mountain biker bought the property with plans to build a new house.
But first he is building a professional-grade dirt-jump park.
"It was a beautiful spot in the Uplands and lots of space to build some jumps, so why not?" Donais told On the Island's Khalil Akhtar on a rainy-day tour of the muddy work in progress.
He laughed at the question of whether it was a permitted use in this exclusive neighbourhood.
"Yeah I guess it's called landscaping in Victoria," he said. "It's a different kind of landscaping but yeah, you're allowed to do whatever you want with your backyard as long as you don't disturb neighbours and you keep the peace."
Even so, Donais received visits from Oak Bay municipality staff regarding the project, including a building inspector, an engineer and a tree-protection expert.
He also fielded complaints that the jumps gave resident deer easier access to the neighbours' yards, where they were eating the greenery.
While it's difficult to envision now, Donais said that come summer, the jumps, made from clay, will harden into smooth steep jumps perfectly spaced in a looping track big enough for several riders at a time.
It's not the first track he's built, but he said it's hard to find a spot where years of work won't be bulldozed for development.
"At least this one, I control the environment and it's not going to go anywhere," he said.
Donais remembers fondly watching VHS tapes of California dirt bikers with jump tracks in their backyards.
"This was a dream, to have the means to do it," he said. "I could buy another car, another house, or I could just do what I love to do which is riding my bike every day."