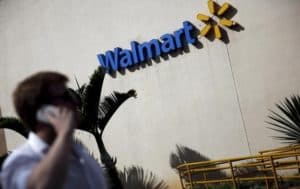 SAO PAULO (Reuters) – Wal-Mart Stores Inc (WMT.N) is in talks with buyout firm Advent International Corp and other funds to sell a major stake in its Brazilian operations, two people with direct knowledge of the matter said on Sunday.
Wal-Mart is being advised by Goldman Sachs & Co, according to one of the sources who spoke on condition of anonymity. Other private equity firms that are looking into the investment in the Brazilian unit are GP Investments Ltd (GPIV11.LU) and Acon Investments LLC, the source added.
Wal-Mart officials in Brazil declined to comment. Advent and GP declined to comment. Goldman and Acon did not immediately reply to requests for comment.
A partial exit by Wal-Mart from Brazil, as Chief Operating Officer Judith McKenna takes over the international unit of the world's biggest retailer, would give a new partner the chance to turn around a sprawling operation that has struggled to turn a profit.
Wal-Mart operates 471 stores in Brazil, according to the company's local website. The retailer's Brazilian unit reported revenues of almost 30 billion reais ($9.4 billion) in 2016.
Wal-Mart, however, has posted operating losses in Brazil for seven years in a row after an aggressive, decade-long expansion left it with poor locations, inefficient operations, labor troubles and uncompetitive prices, Reuters reported early in 2016.
One of the people with knowledge of the deal said Wal-Mart's operations in Brazil had not improved over the last two years, which coincided with the country's harshest recession in decades.
Wal-Mart began sounding out possible investors in the unit several months ago but got no interest from rival retailers, which led the company to seek out buyout firms, the source said.
The retailer intends to keep a stake in the Brazilian unit to be able to recoup part of its losses in the country later if an economic recovery and restructured operations boost results, according to the source.
Retail sales in Brazil are starting to recover from the recession. Christmas sales were 5.6 percent higher than a year ago, according to credit data supplier Serasa Experian.
Earlier on Sunday, newspaper O Globo said private equity Advent was in talks to acquire 50 percent of the Wal-Mart unit. The paper did not say how it got the information or any details on the state of the talks.