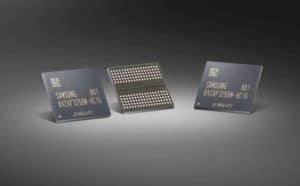 You can start getting pumped about the next generation of graphics cards, as Samsung has announced that it's building the first-ever 16-gigabit GDDR6 chips using its 10-nanometer class technology. The news isn't a complete surprise, as Samsung previously said that GDDR6 was coming when it unveiled 8-gigabit DDR4 RAM chips last month and won a CES 2018 Innovation Award in November.
"Beginning with this early production of the industry's first 16Gb GDDR6, we will offer a comprehensive graphics DRAM line-up, with the highest performance and densities, in a very timely manner," said Samsung's Senior VP Jinman Han. The company also did a minor tease, saying the chips "will play a critical role in early launches of next-generation graphics cards and systems."
You may debate whether Samsung is behind TMSC with 7-nanometer tech, or if it's 10-nanometer tech — now on its second generation — is inferior to what Intel (still) has in store for the future. However, at least Samsung's foundries our stamping out the damn chips, which is all that really matters to consumers.
The GDDR6 chips will make things all kinds of better for gamers. First off, they offer double the speed of previous 8-gigabit GDDR5 RAM, with speeds up to 72 GB/s (that's gigabytes). They also consume about 35 percent less energy, Samsung says, and offer a 30 percent manufacturing productivity gain, so that its assembly lines can build more chips in the same amount of time.
What that means to you, in theory, is better gaming performance, less power drain and cheaper graphics cards. That is, unless all the chips are gobbled up by bitcoin miners. The voracious demand from that industry has pushed a GeForce GTX 1070 from a $380 suggested retail price to $890, as Techspotnoted. That's killing gamers and folks who love to build rigs (and promoting pollution), but all of it is obviously good for Samsung's profits.