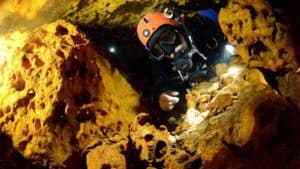 A team of experts in Mexico has discovered two linked underwater caverns that are more than 4,000 years old and form the largest known such cave on earth.
The discovery of the cave system, which stretches 215 miles, could hold valuable information about the ancient Mayan population, which inhabited parts of Mexico, the Yucatan Peninsula, and Guatemala, among other areas in the region.
The cave holds hundreds of Mayan relics, according to Guillermo de Anda, the director of the Gran Acuifero Maya team, which is part of Mexico's National Institute of Anthropology and History. De Anda told Reuters that the caves are certain to shed light on how the Mayan civilization evolved.
500 YEARS LATER, SCIENTISTS THINK THEY'VE SOLVED GERM MYSTERY THAT NEARLY WIPED OUT MEXICAN POPULATION
"Without a doubt, it's the most important submerged archaeological site in the world," de Anda said, according to Mexico Daily News.
The linked caves are Sac Actun and Dos Ojos.
"It allows us to appreciate much more clearly how the rituals, the pilgrimage sites and ultimately the great pre-Hispanic settlements that we know emerged," de Anda told Reuters.
1,000-YEAR-OLD STONE STRUCTURE IN MEXICO MAY DEPICT CREATION OF EARTH
Some caves had important religious meaning to the Maya.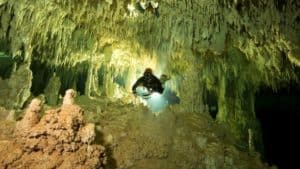 "We've recorded more than 100 archaeological elements: the remains of extinct fauna, early humans, Mayan archaeology, ceramics and Mayan graves," de Anda is quoted as saying in the Mexico Daily News. "It's also very significant that this discovery enables us to see the possible patterns of past settlement. From the Pleistocene through to the ancient Mayans and up to the colonial era, they developed parallel to this enormous flooded fresh-water cave."
The discovery caps nearly a year of intense exploration in the area.
ARCHAEOLOGISTS FIND TUNNEL THAT MAY EMULATE UNDERWORLD
As exciting and significant as the finding is, it may be only part of something even larger, de Anda believes.
There may be, for instance, other cave systems that are linked to Sac Actun, which means "White Cave" in the Yucatec Maya language.