Vancouver will move southbound cyclists from shared pathway to protected lane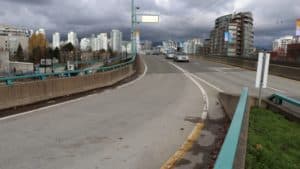 Vancouver city council voted Wednesday to add a protected bike lane for southbound cyclists and remove a southbound lane used by motor vehicles.
Southbound cyclists currently share a pathway with pedestrians on the east side of the bridge. The upgrades will also give them a separated lane on the bridge's west side.
It would be accomplished by repurposing a segment of one of the southbound vehicles lanes, according to a staff report.
The staff report points to a recent dramatic increase in the rate of pedestrians and cyclists ending up in the ER because they were injured while using the shared pathway.
While acknowledging public concerns about the effect on traffic, the report argued the changes will not have a noticeable impact on drivers, "since the motor vehicle capacity of the bridge is governed by the capacity of the traffic signals at either end."
It also pointed out the volume of motor vehicles on the bridge has actually decreased over the last two decades.
NPA tries to nix plan
Coun. Heather Deal spoke in favour of the motion, citing what she called unsafe conditions on the bridge.
NPA Coun. George Affleck was critical of the proposal though, suggesting instead that painting lines dividing the existing shared path into cyclist and pedestrian areas would be more cost effective.
"I think there aren … many, many other parts of the city that should be prioritized ahead of this in terms of safety," he said.
He tried to nix the plan with an amendment calling for a moratorium on changes to the bridge and for staff to develop an "innovative and safe" bike-only crossing for False Creek, either separate from the bridge or attached to it in some way.
"I think it's time we put the focus on cyclists and gave them the sort of bridge across the False Creek area that is the best use of that money," he said. "I don't think we should be trying to fit them in to a car lane."
His amendment was defeated in a six-to-three vote with Green Coun. Adrianne Carr joining the five Vision councillors. present. Only Affleck and his two NPA colleagues were in favour.
The Vision councillors and Carr joined together again to vote in favour of the changes to the bridge lanes.
Construction will begin in the spring.