'Having a good doctor, that's one thing — and believing them is the second,' says Edmonton man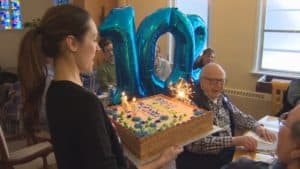 Many people are lucky to be alive, but it's been about more than luck for Tom Richards as he celebrates his 102nd birthday this week.
He stops by Edmonton's Pilgrims Hospice every Wednesday. But this week they surprised him with a birthday lunch.
As he sat at the head of a long table lined with staff and fellow seniors, balloons in the shape of the number 102 floated behind him.
"To tell you the truth, I didn't think my 102nd birthday was very important, but all my friends did," Richards said.
Richards started attending the hospice every week about a year ago. He hangs out at the society to keep himself occupied and cheer up his fellow seniors.
"This is an organization to help people get past that dreadful time when they realize they're old enough that they don't need to think about dying," he said.
"To anticipate it without any fear really, but just as part of your life. When you reach that stage of thinking about it, you're in control again."
As Richards eats birthday cake and tells stories of life in Edmonton in the 1930s, staff eagerly listen.
The hospice program doesn't only benefit Richards by giving him a social event to look forward to every week, but the employees also enjoy his positive outlook on 102 years of life.
"He's taught a lot of the clients about life and how to live, and he's taught the staff the same, and the volunteers," said Bonnie Ross, manager of respite services at the Pilgrims Hospice Society.
"We really appreciate him being a part of our group."
The society works with seniors who are dealing with life-threatening illnesses and offers solace to those who are grieving.
How to survive for more than a century
Because living longer than 100 years is so rare, many people often ask Richards if there's any secret to it.
Richards said his focus on his health and exercise may have paid off. He regularly swam laps well into his 70s before slowing down.
"Having a good doctor, that's one thing — and believing them is the second," he said.
"I quit drinking and smoking when I was forty, which may have some effect on it, and I'm sure it has. Other than that, [I'm] happy with people around me, which I have."
Richards was born in Edmonton in 1916 and worked for close to 45 years as a buyer for the Alberta liquor commission.