Freeland says Canada 'prepared to do everything we can' towards peaceful solution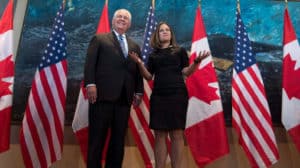 If there's one word at risk of being overused in the next few days, it's "diplomacy."
Foreign ministers from 20 countries are meeting in Vancouver to discuss ways to promote a peaceful resolution to the North Korea crisis.
Chrystia Freeland and her U.S. counterpart, Secretary of State Rex Tillerson, are co-hosting the one-day gathering in Vancouver.
"Canada is really prepared to do everything we can to work towards a peaceful diplomatic solution," Freeland told CBC's The Weeklywith Wendy Mesley.
While the official meeting begins tomorrow, Freeland and Tillerson will take part in a ministerial dinner tonight, with guests including Defence Minister Harjit Sajjan and U.S. Defence Secretary James Mattis.
Despite that military representation, officials insist the goal of the summit is to find ways to tone down the escalating — "my nuclear button is bigger than your nuclear button" — rhetoric.
A government source speaking on background, said ministers will focus on alternate paths forward, amid the rapidly changing situation.
As CBC News reported on Friday, that message is not only aimed at North Korean leader Kim Jong-un, but is also at members of U.S. President Donald Trump's administration.
Global concern
When the meeting was first conceived back in September, Trump had recently threatened to unleash "fire and fury like the world has never seen," in reaction to the North Korean regime's weapons testing.
While tensions have not eased, there has been a change in dynamic since that time. North and South Korea held their first official talks in two years, resulting in the North being allowed to participate in the Pyeongchang Olympics, along with a pledge to keep talking.
The White House has also signaled a new willingness to engage in talks with North Korea, "at the appropriate time, and under the right circumstances."
When delegates sit down on Tuesday, the source said, they will be assessing the depth of the threat posed by Kim. Ministers will take a look at North Korea's capabilities, recent advancements and the timeline under which it has all unfolded.
The source also said allies recognize North Korea is not just a regional threat, but a global concern.
Halting naval traffic
During the meeting delegates will be reviewing the sanctions currently in place and talk about ways to ensure they are being properly enforced.
U.S. State Department officials confirmed last week that they will discuss whether to intercept ships headed in and out of North Korea.
"We continue to explore all options to enhance maritime security and the ability to interdict maritime traffic, those transporting goods to and from the [North] that support the nuclear and missile program," said Brian Hook, director of policy planning at the State Department.
"Maritime interdiction helps us to disrupt resources, and then the financial side helps us to disrupt the financing of their nuclear and missile program," Hook told reporters during a briefing last Thursday.
No China, No Russia
Delegates will also take a closer look at what pre-conditions need to be in place, before diplomatic talks can resume.
There is skepticism about what can be achieved at this summit, given the players that will not be at the table.
Neither China nor Russia will attend."We've invited both of them to the meeting, and if they choose at the last minute to come, we would be grateful to see them there," Freeland said.
A government official speaking on background later clarified that neither country was invited to the full meeting, but were, however, invited to Vancouver to get a briefing from officials afterwards.
"We're also looking forward after the meeting to Briefing both China and Russia about our conclusions and bringing them into the conversation," she added.
"They're not going to solve the Korean crisis at this meeting," said Roland Paris, a former foreign affairs adviser to Prime Minister Justin Trudeau.
But, he said "I think it is always useful to be bringing countries together to be talking about this kind of a crisis situation."