Chinese smartphone maker ZTE Corp. aims to launch a smartphone with faster 5G internet capabilities in about a year, according to Lixin Cheng, chief executive officer of the company's mobile device business.
The device would be introduced in the U.S. at the end of 2018 or early 2019, Cheng said in an interview with Bloomberg News. Plans may change based on the availability of fifth-generation networks and the supply of the necessary chipsets. Cheng said it would be a smartphone, but also noted that a 5G tablet or wireless-internet hub for homes were possibilities, too.
AT&T Inc. said earlier this month that it plans 5G phone service in about a dozen cities this year, without naming any specifically. Qualcomm Inc. has talked up new chips it will sell to enable this faster wireless connectivity. Without those ingredients, ZTE and most other phone makers will struggle to offer viable 5G gadgets.
Cheng's comments, made on the sidelines of the CES consumer electronics conference in Las Vegas, come as Chinese phone makers are being scrutinized by U.S. authorities. ZTE was fined as much as $1.2 billion last year for breaching U.S. sanctions on Iran. Huawei Technologies Co., which was labeled a cyberspying threat by a U.S. congressional committee in 2012, planned to announce its first U.S. carrier deal this week with AT&T, but the deal crumbled close to the announcement.
ZTE has already sold phones via both AT&T and Verizon in the U.S. Phone makers don't need carrier deals to sell devices in the U.S., but such partnerships provide a significant boost in marketing and retail presence.
According to data compiled from Bloomberg Intelligence, ZTE isn't a significant player in the global market, with just 2.1 percent market share in the third quarter. However, the company is part of the string of Chinese phone makers pushing to compete with Apple and Samsung globally. If it indeed releases a 5G smartphone by early 2019, it's likely that they would be one of the first to the market, potentially going up against or beating Apple and Samsung to offer that feature.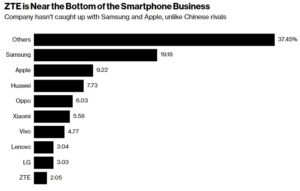 The market leaders haven't revealed plans for 5G smartphones, but Samsung announced a partnership with Verizon Wireless this month to bring 5G internet to people's homes in some parts of California. Last year, the U.S. government granted Apple permission to begin testing 5G networking, implying that the Cupertino, California giant is exploring an iPhone that can connect to 5G networks.