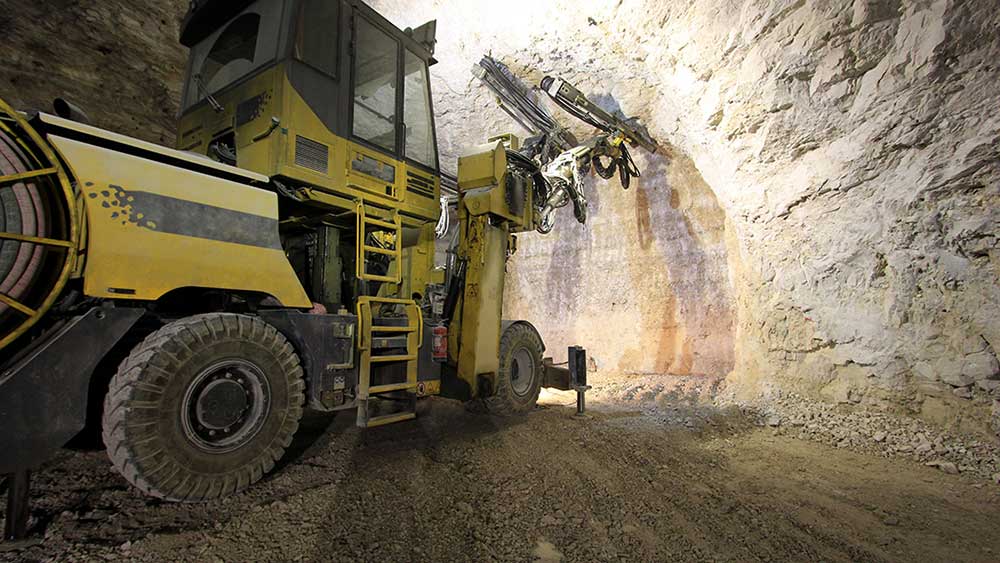 Here's something all investors looking at gold and gold opportunities should know: The gold mining industry is seriously depleting its reserves, not finding new deposits fast enough to keep up, and could now be on the verge of the most profitable turning point in decades.
---
The climate for gold is looking stronger as world tensions rise and small cap mining companies are falling into favor again. Our eyes are on those companies seeking secure gold resources; in this case Lucky Minerals Inc. (TSX.V: LJ) (OTC: LJMHF) for its gold-copper-silver project in the western US state of Montana. Based on gold's current moves, Lucky Minerals deserves investors' attention now.
According to analysis by BMO Capital Markets and Bloomberg, the gold mine supply will peak in 2019 and continue falling through at least 2025 (1).
Large producers such as Barrick (NYSE:ABX), Goldcorp (NYSE:GG), Newmont (NYSE:NEM) and Kinross (NYSE:KGC) are focusing directly on the Western United States to provide new supplies. These and many other companies have made new investments there, and are now searching for additional lucrative projects.
Clearly these investments are being focused on what is a stable political and operating environment. This makes for an interesting M&A climate and some exceptional opportunities for junior mining companies.
For our readers the equation is simple: scout out the best values in secure mining regions with new or developing gold and gold-copper-silver projects, get on board now and watch for momentum as reserves run down and/or gold rallies.
Lucky Minerals, whose Emigrant gold project is forming into what could be a 1 to 2 billion tonne deposit in the heart of Montana, could easily be one of the best targets we've located.
New Gold Projects are Being Very Well Rewarded.
New gold projects with real merit, including significant size and development potential, are seeing rich rewards. For example, investors turned $200 million to $2.3 billion with Fronteer Gold, a Nevada junior exploration company acquired by Newmont Mining in 2011. Endeavour Mining purchased True Gold for U$190 million in 2016.(2)
The successful mining companies locate deposits, drill them off, remove the risks associated with the early stages and then sell or develop them to the mining production stage. Nearly all major discoveries in the western United States that have followed this formula have found solid support and been rewarded greatly.
The market for gold has been marching higher since early September and has climbed to over a 5-month high recently. Now, the tempo of investment is stepping up markedly.
The consensus appears to hold that considering the overall market, the current gold rally seems well supported. And here's where juniors can really rule the day.
---
You Could BUY a Junior Gold Mining Stock at Pennies a Share – See Our Recommendation
---
Montana Is an Ideal Spot for Mining
Montana has long been home to some very successful mining companies.
The state is 8th in total gold production out of all the western states, including Nevada. Mining is the state's 6th largest employer. It has a solid, capable mining work force. It is amenable to mining practices with reasonable regulation, and it has a strong record for accommodating mining exploration.
More than anything, Montana offers a rock stable political climate.
All these factors play heavily into junior mining companies like Lucky Minerals being able to operate successfully at a small scale and then grow to become large plays.
If it's ease of access, reasonable environmental practices, solid economics and political stability that companies seek, then Montana is a Triple A mining location.
There are a number of successful Montana mining companies who live by the state's strong mining provisions including Montana Tunnels; Placer Dome Inc. and Stillwater Mining Company to name a few.
This is the vicinity where Lucky Minerals has located its' stake in the Emigrant Mining District, which the U.S. Geological Survey includes as one of the world's giant porphyry systems in its' report and global database.
Lucky Mineral's Emigrant Creek Montana Project
Lucky Mineral's formula is relatively simple: acquire a potentially large gold-copper-silver trend in the Western US, re-interpret historical drilling data into a new target model and then drill out the discoveries in a higher priced gold market, not overspending or over extending themselves.
This could be compared to several Montana mining companies with major projects including New Gold's Afton Mine, Aurico Metals' Kemess underground projects, and Rio Tinto/ BHP Billiton's Resolution Copper Mine, among others.
Lucky Mineral's exploration focus is a historic deposit located at Emigrant Creek in southern central Montana. The property is comprised of about 15 square kilometers (6 square miles) and situated around some historic 68-hole drill program areas that Lucky now holds in a large database.
In all, about $20 million has been spent on developing the drilling, IP surveys, assays and various techniques to define and evaluate the potential deposit. Results show there are six copper-gold-silver deposits identified within the claim area, which is believed to be all part of one large porphyry (resource bearing) system.
Interestingly, the extensive drilling carried out by previous companies did not examine the entire system, since it was mostly above the copper and gold part of the system. What Lucky Mineral's veteran mining management believes is that the higher grade metal is considered to be below the previous drilling.
Lucky Minerals is carrying out a $2.5 million drill program of its own to further define the resource.
All included, the Emigrant package of properties (nine patented claims and eight unpatented claims) that Lucky Minerals has managed to bring together holds a potential 1 to 2 billion tonne mineral asset. Lucky Minerals recently managed to amalgamate individual properties so that they can integrate them as one large asset.(4)
The property has significant reported gold and copper that's summarized as longer intersections of lower grade gold with shorter sections of high grade gold. These are accompanied by significant amounts of copper, silver and molybdenum.
As you would imagine, the Emigrant Creek Project has been well thought out with easily access by road, close proximity to rail for shipping product to smelters in Utah and Arizona, access to major water and power within 20 kilometers and access to major infrastructure about 50 km away in Livingston, Montana.
---
Look for a Gold-Copper-Silver Mining Stock That Could Return 10x, 20x or more! – See Our Recommendation
---
Getting in at the Earliest Stage with Junior Miners
Market watchers and analysts suggest putting roughly 20% of your gold into the hard asset. That's a great strategy if you believe in the yellow metal.
But they also suggest getting in at the source, with the gold miners and here's where the juniors shine. For truly large returns (10x, 20x etc.), we seek out early stage companies with the potential for massive assets. These are nearly always junior mining companies, as with Lucky Minerals Inc.
We favor juniors for their record returns and ability to leverage pure plays. Juniors can go all-in for exploration at lower costs and pull back as needed to preserve capital. The large diversified miners rarely have this luxury, so they don't often create new discoveries or turn old ones into major plays.
Backing juniors means more risk than the BIG mining companies. But that hasn't deterred those investors who have doubled, tripled or quadrupled their returns on early stage gold projects.
It's certain that Lucky Minerals is a junior mining company that has put itself in the lead position of what could be a very big project that if not brought to production, could make an excellent buy-out target for major players, and an even greater potential pay-off.
---
FEATURE STOCK: FOR COMPARISON
[table id=20 /]
---
Gold Group Winners: Too Late for Major Gains, But Still Good to Compare
These gold mining companies (mining for gold/copper/silver etc.) have been increasing their efforts over the past year. The market has been marching higher since early September and has climbed to over a 5-month high recently.(3) We've posted the leaders in mining that have vast gold interests, many in the Western United States. These are big board stocks with massive share caps, so they are not likely to see the potential rise in value that are possible with junior miners. They are established gold miners to model after in the mining space.
[table id=19 /]
---
Our Recommendation: We Give Lucky Minerals Our Best Value BUY Rating
If gold deserves your attention, then Lucky Minerals should front and center right now.
The dark characters, like North Korea and Russia have gotten bolder. China has upped its' game. The US no longer runs unquestioned as the world's most powerful and influential country. All these factors lead to the potential for war, or at least the highest level of conflict, at the most likely point in decades.
Global governments have taken to printing money as a means to further economic growth. Central banks have lowered interest rates to insanely low levels, even dipping into the negative.
Britain's "Brexit" now raises serious questions about the viability of even the European financial system. People are even asking "Will the euro survive?".
At the same time, governments around the globe are devaluing their currencies on purpose and in some cases, unintentionally.
This is the exact environment in which precious metals offer their best value.
We see this in the movement of the currencies and as evidenced, gold is outperforming stocks.
That's good for gold mining companies across the board, but it's especially true for our favored junior miners. When gold rises, those companies that are leveraged to the price of the commodity rise much higher. It's simple math.
It's happened plenty. For example, the Market Vectors Junior Gold Miners ETF (NYSE: GDXJ)(5) rose 183% in a single six-month period in 2016. It then went on a 30% run from May to September of 2017.
Given the landscape, we believe Lucky Minerals is located in one of the most politically stable and secure gold mining regions in the world. But that's not the only reason for to investors to consider this play.
The Emigrant Mineral Trend is potentially very large and could put Lucky Minerals on top of 1 to 2 billion tonnes of economic gold, copper, silver and molybdenum. If the Emigrant mineral structure connects at a lower depth as the company suspects, this could be an extremely viable domestic gold-copper-silver play that rivals the best mining operations in the region.
This situation is still relatively early stage, so Lucky Mineral's stock trades at just pennies per share.
---
It's likely that gold investors will see the data and heed the call. Many are already on this trend and seeking to capture the best values. Others may watch it pass by thinking that gold reserves will somehow be restored. That's unlikely.
We foresee a coming gold rally that will fuel this end of the market. When junior miner companies do strike, they strike BIG, with stock valuations that shoot up by factors of 10.
Gold offers security on many levels and we look for junior miners, and especially developing US players to lead the market trend.
USA News Group
Editorial Staff
Sources:
(1) BMO Markets – Bloomberg: https://www.bloomberg.com/news/articles/2016-12-21/gold-miners-are-running-out-of-metal-five-charts-explaining-why
(2) Endevour Buys True Gold – https://beta.theglobeandmail.com/report-on-business/industry-news/energy-and-resources/endeavour-mining-reaches-deal-to-acquire-true-gold-and-new-african-gold-mine/article29029512/?ref=https://www.theglobeandmail.com&
(3) Gold Reaches High – https://markets.businessinsider.com/news/stocks/Canadian-Stocks-Are-Up-Slightly-As-Gold-Stocks-Shine-Canadian-Commentary-1002946369
(4) Lucky Minerals – https://www.luckyminerals.com
(5) Gold Miners ETF – https://finance.yahoo.com/quote/GDXJ/profile?p=GDXJ
---
---
Disclaimer
Nothing in this publication should be considered as personalized financial advice. We are not licensed under securities laws to address your particular financial situation. No communication by our employees to you should be deemed as personalized financial advice. Please consult a licensed financial advisor before making any investment decision. This is a paid advertisement and is neither an offer nor recommendation to buy or sell any security. We hold no investment licenses and are thus neither licensed nor qualified to provide investment advice. The content in this report or email is not provided to any individual with a view toward their individual circumstances. USAnewsgroup.com is a wholly-owned subsidiary of Market IQ Media Group, Inc. ("MIQ"). MIQ has been paid a fee for Lucky Minerals Inc. ("LJ") advertising and digital media. There may be 3rd parties who may have shares of LJ, and may liquidate their shares which could have a negative effect on the price of the stock. This compensation constitutes a conflict of interest as to our ability to remain objective in our communication regarding the profiled company. Because of this conflict, individuals are strongly encouraged to not use this newsletter as the basis for any investment decision. The owner/operator of USA News Group does not own any shares of LJ.
While all information is believed to be reliable, it is not guaranteed by us to be accurate. Individuals should assume that all information contained in our newsletter is not trustworthy unless verified by their own independent research. Also, because events and circumstances frequently do not occur as expected, there will likely be differences between the any predictions and actual results. Always consult a licensed investment professional before making any investment decision. Be extremely careful, investing in securities carries a high degree of risk; you may likely lose some or all of the investment.