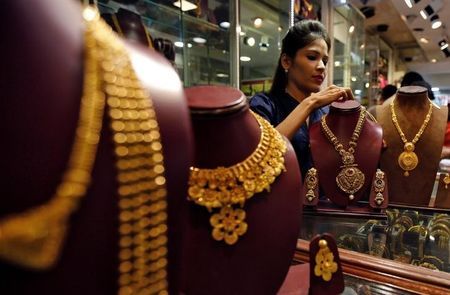 By Apeksha Nair
REUTERS – Gold slipped on Monday on a firmer dollar and stronger Asian equities, but stayed above the key psychological level of $1,300.
The metal gained about 0.9 percent on Friday after U.S. President Donald Trump warned he might ultimately end a 2015 nuclear agreement with Iran and after data showed underlying inflation remained muted in the United States.
The weaker-than-expected U.S. inflation print helped push Treasury yields lower, giving a fillip to gold trade above $1,300, said John Sharma, an economist with National Australia Bank.
The recent rise in the dollar as Treasuries shed some of their earlier gains put a bit of downward pressure on gold, Sharma added.
Spot gold was down 0.2 percent at $1,302.51 an ounce as of 0358 GMT, while U.S. gold futures for December delivery were unchanged at $1,304.80 per ounce.
The dollar edged up but lacked momentum, while the euro was on the defensive after Austria's election and on concerns over Catalonia's confrontation with Madrid.
Asian shares, meanwhile, advanced to new highs following the lead of Wall Street, while escalating tensions between Iraq and Kurds saw U.S. oil futures jump.
Senior Trump administration officials said on Sunday that the United States was committed to remaining part of the Iran nuclear accord for now, despite Trump's criticisms of the deal and his warnings that he might pull out.
"There're obviously some geopolitical issues… but at the moment investors are still focused on the United States," ANZ analyst Daniel Hynes said.
"The market's still surely pricing in a rate hike this year by the Federal Reserve."
The U.S economy remains strong and the strength of the labour market calls for continued gradual increases in interest rates despite subdued inflation, Fed Chair Janet Yellen said on Sunday.
Rising interest rates tend to boost the dollar and push bond yields up, putting pressure on the greenback-denominated, non-yielding gold.
"Prices have established themselves above $1,300, although upside may be little bit limited, so we would expect to see them remain at $1,300-1,310 mark over the course of the week," said Hynes.
Spot gold may break a resistance at $1,305 per ounce and rise to the next resistance at $1,318, Reuters technicals analyst Wang Tao said.
Speculators cut their net long position in COMEX gold contracts for a fourth straight week in the week to Oct. 10, data showed on Friday.
Silver was flat at $17.35 an ounce after hitting its highest since mid-September earlier in the session.
Platinum eased 0.2 percent to $942.50 an ounce, while palladium was 0.4 percent higher at $992.40.
(Reporting by Apeksha Nair in Bengaluru; Editing by Joseph Radford and Subhranshu Sahu)