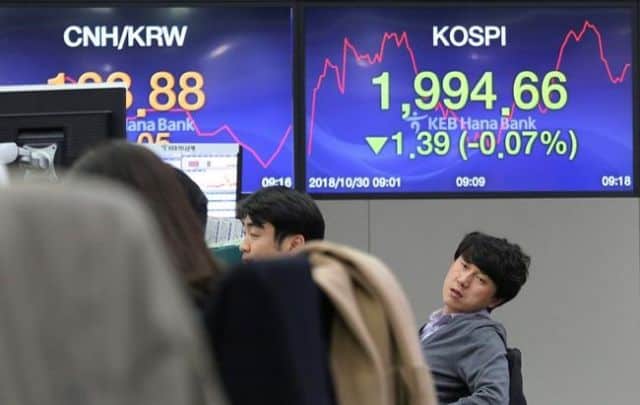 World markets are mixed after U.S. President Donald Trump said he might impose more tariffs on Chinese goods, though he was ready to strike a "great deal" with Beijing over trade.
KEEPING SCORE: In Europe, Britain's FTSE 100 added 0.2 per cent to 7,037.82, but Germany's DAX fell 0.7 per cent to 11,256.02 and the CAC 40 in France sank 0.6 per cent to 4,961.33. Wall Street was poised for an optimistic open. Futures for the Dow were up 0.1 per cent at 24,454.00 and the broader S&P 500 futures added 0.2 per cent to 2,649.20.
ASIA'S DAY: Japan's Nikkei 225 index jumped 1.5 per cent to 21,457.29 after official data showed that the unemployment rate eased to 2.3 per cent in September, from 2.4 per cent a month earlier. The Shanghai Composite index rebounded 1 per cent to 2,568.05 and South Korea's Kospi picked up 0.9 per cent to 2,014.69. Australia's S&P-ASX 200 gained 1.3 per cent to 5,805.10. Hong Kong's Hang Seng bucked the trend, slipping 0.9 per cent to 24,585.53. Shares were higher in Taiwan, Indonesia and Thailand but fell in Singapore.
CHINESE TRADE DEAL: In an interview with Fox News on Monday, President Trump said he thinks there will be "a great deal with China," while adding that tariffs on $267 billion more in Chinese goods were "waiting to go" if a deal was not reached. Trump is set to meet Chinese President Xi Jinping at a summit next month. According to Bloomberg News, the additional tariffs will be announced in December if no breakthrough results from the meeting. Separately, the Commerce Department imposed restrictions on technology exports to Fujian Jinhua Integrated Circuit Co., a state-supported Chinese semiconductor maker. But a weakening of the Chinese yuan, which can make its products more price competitive, lifted sentiment in Asia. The yuan fell to 6.9678 against the dollar on Tuesday afternoon, its lowest level since May 2008. It recovered to 6.9599 per dollar later in the day.
ANALYST'S TAKE: With new restrictions on a Chinese semiconductor maker, the "U.S. has escalated its trade war with China in an unexpected way," Chang Wei Liang of Mizuho Bank said in a commentary. "We are watchful of any retaliatory actions from China, as well as possible slump in Chinese technology stocks."
ENERGY: Benchmark U.S. crude shed 37 cents to $66.67 per barrel in electronic trading on the New York Mercantile Exchange. The contract dropped 55 cents to settle at $67.04 a barrel in New York. Brent crude, used to price international oils, lost 40 cents to $77.97 per barrel. In the previous session, it dropped 29 cents to $77.37 a barrel.
CURRENCIES: The dollar strengthened to 112.75 yen from 112.37 yen late Monday. The euro fell to $1.1370 from $1.1372.