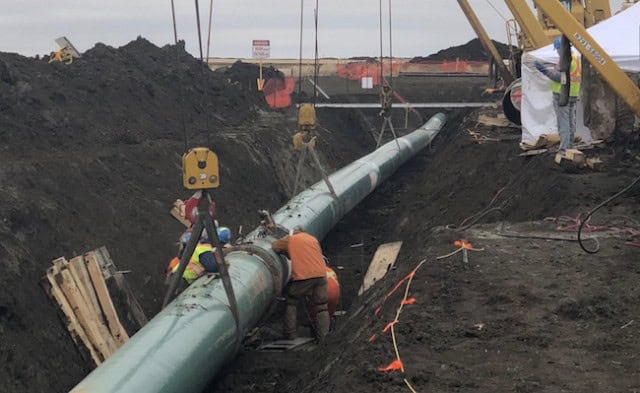 The pipeline explosion in B.C. on Tuesday is interrupting natural gas deliveries and cutting into the cold weather price bonus Canadian gas producers had been enjoying for the past few weeks.
Analysts say about 10 per cent of Western Canada's daily natural gas output was stranded when Enbridge Inc. halted transport on the 36-inch line that exploded Tuesday near Prince George as well as its neighbouring 30-inch line.
The National Energy Board allowed Enbridge to restart the smaller line at a lower pressure, but analysts say that still leaves between 600 million and 800 million cubic feet per day of gas without an easy path to market.
Analyst Martin King of GMP FirstEnergy says prices at the main B.C. trading hub located north of the broken pipe have crashed to about $1 per thousand cubic feet from around $2.60 before the incident.
Associate director Ian Archer of IHS Markit says some B.C. gas is being redirected into Alberta markets, causing prices there to slip from around $2.50 per mcf to just over $2.
The analysts say they expect Enbridge will restore the pipeline to service within a few weeks, given the lack of damage to the parallel line and the high priority of restoring gas to residential markets in B.C. at the beginning of winter.
Alberta and B.C. gas prices had jumped in recent weeks thanks to more demand because of unusually cold weather in Alberta.