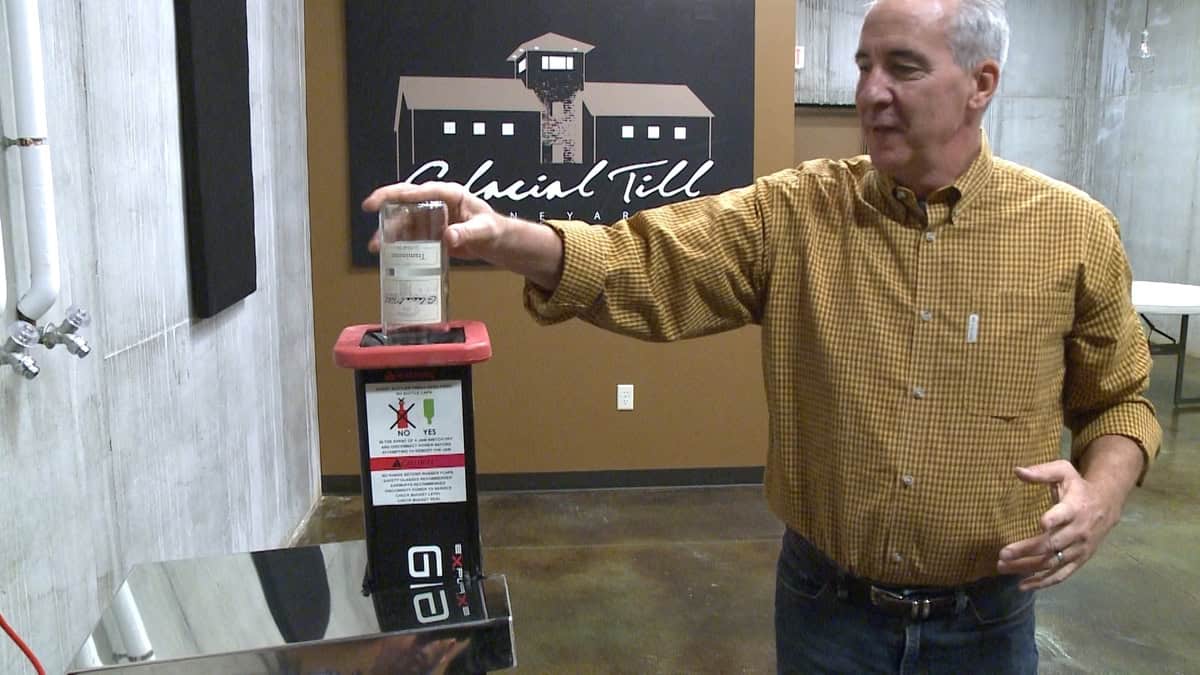 A machine developed in New Zealand is changing how a Nebraska business recycles
PALMYRA, Neb. —
Glacial Tills Vineyard & Winery, nestled in the rolling hills of Palmyra, Nebraska, goes through quite a bit of glass.
The winery and cidery produces about 6,000 gallons of wine and 35,000 gallons of hard cider per year.With events almost every week at both its tasting room in Ashland and the vineyard itself, president Mike Murman estimates around 1,000 bottles of wine can be consumed in a weekend. Sometimes staff members- and the dumpsters outside- can't keep up.
"We may have boxes of wine bottles overflowing by the side of the building here," Murman said.
That won't be a problem anymore thanks to a new piece of equipment recently introduced to the United States, the GL Sand Bottle Crusher.
Glacial Tills is the first business in the Midwest to install the machine, which turns glass bottles to fine sand in a matter of seconds.
"There is no other technology like this that we're aware of," Jeff Johnson with Johnson Recycling Solutions said.
Johnson and his wife, Dianna, are partnering with the United States licensee to introduce the piece of equipment to businesses across the country.
"Anybody that's dealing with a volume of glass needs a machine like this," Johnson said. "You put a glass bottle into a landfill, it literally takes a million years for that to decompose."
Johnson said the user inserts a glass bottle top-side down. Fast-moving hammers inside the machine then pulverize the glass until it is small enough to fall through a screen into a bucket.
Approximately 160 beer bottles and 60 wine or spirit bottles that have been put through the crusher can fit in a single five-gallon bucket. That's a 90 percent reduction in volume.
"I was amazed," Murman said.
The sand-like product feels like dust, and is safe to touch, Johnson said. Plus, it has dozens of practical applications.
"We can use the sand on our road out here, within our vines, sometimes we may need to add different materials into the soil to loosen it up," Murman said.
The sand can also be filtered and used in sand blasting, pool filters, or mixed with an emulsifier and turned into an asphalt-like material that can fill potholes or cracks.
"We're just excited to give it a try, we think it's going to be a nice addition to what we try to do here and what we try to do for the environment," Murman said.