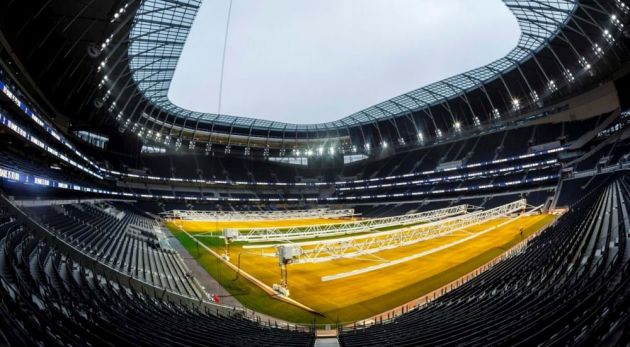 New system implements grass-maintenance into stadium infrastructure.
English soccer club Tottenham are speeding up the pitch preparation process at their new stadium with the introduction of a revolutionary lighting structure.
The innovation, developed by the Premier League outfit alongside Stadium Grow Lighting (SGL), engineering specialist SCX and Hewitt Sportsturf, is the first of its kind worldwide, enabling grow lights to cover the entirety of the Tottenham Stadium pitch without the physical structure impacting on the grass surface.
The system is integrated in the stadium as opposed to traditional units used at most grounds, which are reliant on being wheeled on and off the pitch, affecting the quality of the playing surface in certain areas.
Spurs' new 120-tonne, 864-light structure is stored in a dedicated facility beneath the new stadium's North Stand. The structure is then lifted onto rails mounted on either side of the pitch, before rolling from one end to the other without causing any damage to the pitch. It allows full coverage of the pitch without any equipment ever contacting the grass surface.
In addition, the structure is fitted with an irrigation system, from which the pitch can be watered from above while the units are providing light to the pitch.
Darren Baldwin, head of playing surfaces and estates at the London club, said: "The club is striving for excellence throughout the stadium and this technology could be a trendsetter for pitch care in stadia across the world."
The move is the second unique feature to be complement the new ground's pitch. In 2017, Spurs and SCX designed a dividing retractable pitch, making the stadium the UK's first possess two pitches within the same arena.
The grass surface will be used solely for soccer fixtures, while the artificial version beneath will cater for National Football League (NFL) matches and other events.