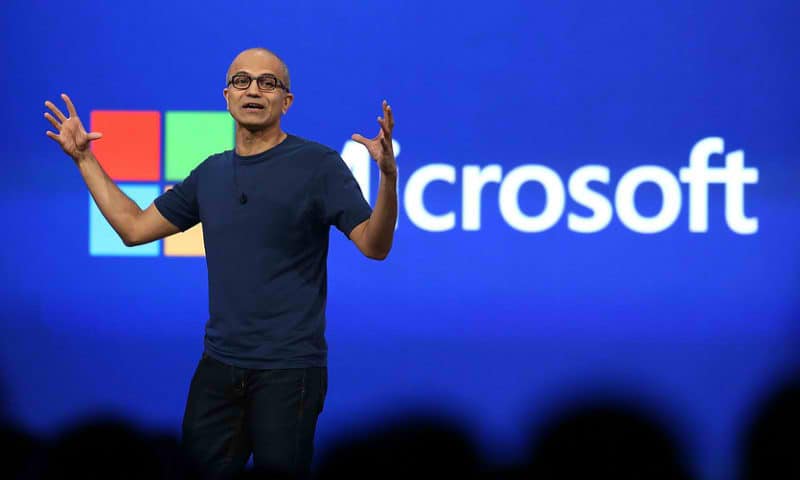 Stock has increased 116% since 2015 security R&D announcement
Microsoft Corp. shares closed at a record high as the tech giant broadened its profile as a secure cloud vendor on Monday, using its annual IT conference to announce several security initiatives designed to woo enterprises to its Azure public cloud platform and away from rivals Amazon.com Inc. and Alphabet Inc.
To kick off its Ignite conference in Orlando, Microsoft MSFT, +0.36% on Monday announced, among other things, that it was applying its Authenticator app across Azure to do away with login passwords as well as expanding its Secure Score service across its cloud to provide users with feedback to avoid breaches.
The Redmond, Wash.-based tech giant also said its Threat Protection product would offer AI and human support across its Microsoft 365 suite to provide end-to-end cybersecurity, and announced a public preview of its Azure confidential computing product designed to secure cloud data while it was in use.
Microsoft shares finished up 0.4% at $114.67, a closing high for a third session in a row, while the Dow Jones Industrial Average DJIA, -0.68% declined 0.7%, the S&P 500 index SPX, -0.35% slipped 0.4%, and the tech-heavy Nasdaq Composite Index COMP, +0.08% finished up less than 0.1%.
Since Chief Executive Satya Nadella announced in November 2015 that Microsoft would invest $1 billion a year in security research and development, the stock's price has surged nearly 116%, making it the best performing tech stock on the Dow over that period, with Apple Inc. AAPL, +0.19% up 91% and Cisco Systems Inc. CSCO, -0.25% up 81%. In comparison, the Dow is up 53%, the S&P 500 is up 43%, and the Nasdaq is up 60% in that time.
'Microsoft's absolutely trying to smackdown [Google Cloud Platform's] claim of being the most secure cloud with its Ignite announcements.'
Maribel Lopez, principal analyst at Lopez Research
The announcements come nearly a week after Microsoft launched a shot across the bow of a rival in another area, presenting an AI version of its Dynamics 365 customer relationship management to go up against Salesforce.com Inc.'s CRM, +2.10% much touted Einstein product, which uses artificial intelligence to provide predictions and recommendations based on a company's business processes and customer data.
This year's Microsoft conference in Orlando also coincides with Salesforce's annual Dreamforce conference, which takes over a large chunk of downtown San Francisco this week.
While Amazon.com Inc. AMZN, +0.19% is still the dominant public cloud player by a long shot with Amazon Web Services, Microsoft's Azure has steadily been chipping away at AWS as one of the fastest-growing public cloud providers. In its last earnings release, Microsoft reported that Azure revenue surged 85% from the year ago period. In 2017, Azure's share of the public cloud market grew to 13.3%, from 8.7% the previous year, while AWS's share declined to 51.8% from the previous year's 53.7%, according to research firm Gartner.
Among U.S. public cloud providers, Alphabet's GOOG, +0.62% GOOGL, +0.63% Google Cloud Platform, or GCP, comes in third in terms of market share, and is locked in a battle with Microsoft over customers who don't want to rely solely on AWS or not at all.
That role of a backup cloud has become more prevalent in recent years, Maribel Lopez, principal analyst at Lopez Research, told MarketWatch in an interview. Case in point: At last year's Dreamforce, Salesforce made a big show of announcing that GCP had become its "preferred" cloud partner, and quickly clarified to a confused press audience that GCP was not replacing AWS, and that AWS was still a "preferred" cloud partner.
Lopez said using more than one public cloud service is smart business for software-as-a-service companies like Salesforce, so they can offer customers a choice on which cloud service will store their data.
"Microsoft's absolutely trying to smack down GCP's claim of being the most secure cloud with its Ignite announcements," Lopez said. "Security has always been a huge contention point around cloud and always has been."
Microsoft's clear advantage in bolstering its secure cloud offering to businesses is the ubiquity of its software, Bob O'Donnell, president and chief analyst of Technalysis Research, told MarketWatch.
"The interesting part of the security story is that Microsoft wants to take it end-to-end from PCs and other devices through to the cloud, ensuring that you have secure access to the right apps and data on your local devices, as well as the cloud-computing resources and data available through Azure," O'Donnell said. "Most organizations have at least some level of Microsoft products in their organization, so this gives them a clear advantage."
By applying Authenticator across Azure, Microsoft is making a big step into digital identity, which was heralded as the new perimeter in security at the RSA Conference, one of the cybersecurity sector's biggest annual conferences, this past April in San Francisco. A solid approach to digital identity security was a big motivator in Cisco's announcement in August it was acquiring Duo Security for $2.35 billion.
"The Holy Grail for tech providers is figuring out what I would call a unified, portable digital identity that leverages dual-factor authentication, multi-device usage and biometrics to make sure that an employee in an organization gets access to the information and applications they need, but unwanted outside parties can't," O'Donnell said. "It's basically a digital identity platform that allows them to control the first login of the day."
But, as Cowen analyst Gregg Moskowitz pointed out, companies are still wary of cloud vendors when it comes to security, citing a May survey where participants responded that security was the least likely of 13 workloads that they would transition over to the cloud in the next two years.
"Despite an increasing trend toward both cloud and vendor consolidation, we firmly believe that best-of-breed security providers will continue to serve as a main component of IT security purchases," Moskowitz said in a note Monday.
Moskowitz has an outperform rating and a $117 price target on Microsoft. Of the 34 analysts who cover Microsoft, 29 have buy or overweight ratings, four have hold ratings, and one has a sell rating, with an average target price of $122.91, according to FactSet.