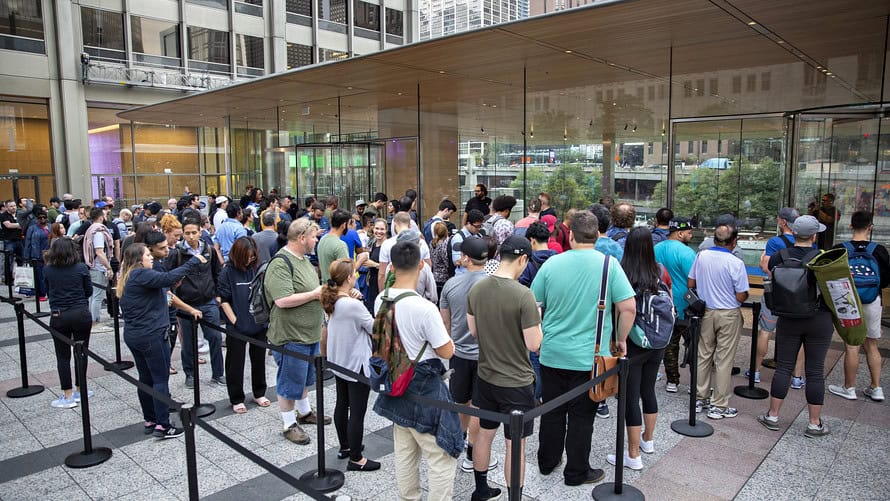 First-day buyers were generally more interested in large-screen iPhone XS Max, according to one former analyst
Waiting in line for an iPhone doesn't seem to hold the allure it once did, but a dwindling band of analysts still camp out with Apple Inc.'s superfans and try to glean insight from their presence and preferences.
Friday marked the first official day that Apple AAPL, -1.08% fans could buy the iPhone XS and XS Max and, judging from a few accounts, the lines outside Apple stores weren't particularly spectacular. Whether that says much about demand for the two new models remains to be seen, as the practice of camping out for a new phone has trailed off in recent years amid the rising popularity of online ordering.
"As a reminder, line size does not correlate to demand, but it's fascinating that consumers continue to line up for the iPhone despite the availability of online preorders," BTIG analyst Walt Piecyk wrote to preface his annual "gratuitous" roundup of iPhone lines.
Piecyk commented that lines outside the handful of stores he visited appeared shorter than last year, though they were longer than lines for the iPhone 6S back in 2015. Apple's new phones this year are in the "S" class, meaning they're improved versions of what the company debuted last year, though they retain the same form factor. Generally in Apple's history, consumers have been less enthusiastic about "S" versions.
Piecyk's note had some detailed data points.
"The flagship 5th Ave store line reached 3/4 of the way to Madison Ave, while last year the 8/8+ line reached Madison and the iPhone X wrapped around the block," he wrote. "The iPhone 6/6+, the only supercycle product, generated a line that wrapped all the way around the block and back to the front of the store and then extended up 5th Avenue."
He added that lines at wireless operators' stores "continue to shorten," though that could be the result of weak promotions. Sprint Corp. S, -0.78% is the only carrier to have a "marginally more aggressive" offer with the current line of iPhones.
Online preorders are a popular option these days, and Piecyk and others have pointed out that online wait times of two or three weeks aren't as bad as they were a year ago with the iPhone X, though that might be more a function of supply than of demand.
Gene Munster of venture-capital firm Loup Venture also weighed in on the Apple lines, just as he did when he was a Piper Jaffray analyst covering Apple. His line count for the flagship New York store fell by half this year, relative to last year's iPhone X launch. The line count was down by 75% at one of the Minnesota stores he surveyed.
Munster polled some of the iPhone faithful and found that demand for the pricier, larger iPhone XS Max "exceeded historical demand for Plus versions." Of those surveyed by Munster, 70% were planning to get the iPhone XS Max, though only 3% of those the Loup team talked to were interested in 512 GB phones.
Admittedly, it's a small sample, but the data points increased Munster's confidence in iPhone average selling prices of $791 for the fiscal year ending next September. The FactSet consensus calls for $765.
Apple's third new iPhone model, the XR, goes on sale in October.
Apple shares closed down 1.1% in Friday's session. The stock is up 42% over the past 12 months, while the Dow Jones Industrial Average DJIA, +0.32% which counts Apple as a component, has gained 20%.