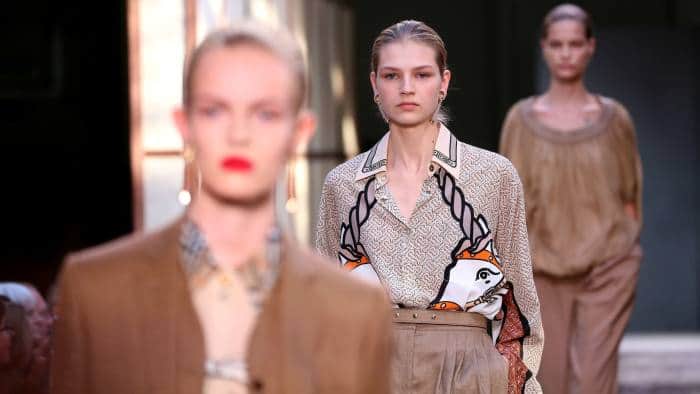 Litigation panic has made Bayer a bargain, says Citigroup
What's happening
● Burberry was the FTSE 100's sharpest faller on mixed feedback from an analyst tour of its recently refurbished flagship Regent Street store. The visit followed Monday's debut runway show in London from Burberry's new creative director Riccardo Tisci, which was met with criticism by some for lacking youth appeal and being "too safe".
Mr Tisci "appears to be embracing the breadth and size of the Burberry brand and the responsibilities that go with it", said JPMorgan Cazenove. "The bad news is that in trying to please everyone he might be losing out on the brand new messages" and some of his daywear designs were "possibly too easy to copy by mass-market fashion contenders".
However, Société Générale's team was more forgiving. "Burberry is not the next Gucci, but does that really come as a surprise? . . . While the company expects its client base to evolve towards a more fashion-forward crowd, the new designer probably did not want to alienate the current customer base."
● Wirecard, the German payments processing group, slumped amid talk that a critical research report was in circulation. Third Bridge, an independent research house that traders were linking to the rumour, said it had not published anything on the company recently.
● IG Group retreated after its first-quarter results showed the effect of new European restrictions on retail contracts-for-difference sales, which had been in place for one month of the period. Quarterly revenue was down 5 per cent year on year, with the financial markets bookmaker saying clients might take time to adapt to the new rules from the European Securities and Markets Authority.
"Given the decline, the market may jump to the conclusion that the hit from Esma was worse than expected," said Barclays. However, Barclays argued that IG was looping a record revenue quarter in 2017 thanks in part to the cryptocurrency frenzy, adding: "We consider this to be similar to previous softer updates. It reflects the ebb and flow of trading (potentially disappointing the market in the short term), but not something that changes our investment case."
● Games Workshop was among the FTSE 250 highest risers after the fantasy figures retailer said trading in its new fiscal year had been in line with expectations and announced a 35p dividend. Investors had been nervous about the quarter because of tough year-on-year comparisons following the pervious summer's refresh of its flagship Warhammer 40,000 series.
Peel Hunt, Games Workshop's house broker, said it was raising year-end revenue and profit forecasts by 5 per cent and 7 per cent respectively, to £215m and £62m. The broker also increased its share price target to £32.50 "to reflect greater confidence in the long-term outlook".
Sellside stories
● Barclays upgraded Aveva to "overweight" from "equal weight" with a £31.50 target. The upgrade was on the back of Wednesday's trading update from the industrial software maker that set, what Barclays called, "ambitious yet achievable" midterm margin guidance in the wake of last year's reverse takeover of Schneider Electric's software division.
"That Aveva was prepared to give medium-term ambitions for the first time shows the visibility the group now has over its strategy," said Barclays. "Industrial software is complex and largely disparate and it would be an exaggeration to suggest the enlarged Aveva product portfolio can simply be combined into an all-encompassing solution. However, the business has gained scale and a consolidated research-and-development [function] should enable it to seek out overlap in technology, clients and industries wherever possible."
● Citigroup upgraded Bayer to "buy" from "neutral" with a €100 target price. With the shares trading at just 9 times 2020 earnings and delivering compound annual earnings growth of 14 per cent to 2023 then 10 per cent thereafter, the risk-reward is difficult to ignore, Citi said.
"We believe sentiment towards Bayer, management and the respective outlook for each division has hit rock bottom, with €18bn of value wiped out since the glyphosate ruling ," said Citi, which assumed a maximum litigation risk around the weedkiller at between €1bn and €2bn.
● Morgan Stanley upgraded pumpmaker Weir to "overweight" from "equal weight", saying a 50 per cent derating for the stock versus other UK engineers over the past year had created the best entry point in almost a decade.
Weir's relative valuation had only been lower during the 2009 financial crisis and it was the only UK engineer still trading long-term average valuation levels, Morgan Stanley said. But recent warnings from Halliburton, Schlumberger and Weir itself on weaker than hoped demand from US shale equipment buyers had removed near-term risks ahead of a dissipation of the headwinds in 2019. The broker also highlighted Weir's "best-in-class mining business" and said a valuation of 13.6 times 2019 earnings looked too cheap when UK peers traded at 18.1 times earnings.
● In brief: Ceconomy downgraded to "hold" at HSBC; Dotdigital rated "buy" at Peel Hunt; Essity cut to "neutral" at Goldman Sachs; Firestone Diamonds rated "sell", Petra Diamonds rated "hold" and Gem Diamonds rated "buy" in new coverage at Berenberg; Proximus upgraded to "buy" at Citigroup; Shepherd Neame raised to "buy" at Peel Hunt; TP ICAP upgraded to "hold" at Shore Capital; Icade downgraded to "underperform" at Exane BNP Paribas; Telenet cut to "neutral" at Citigroup.