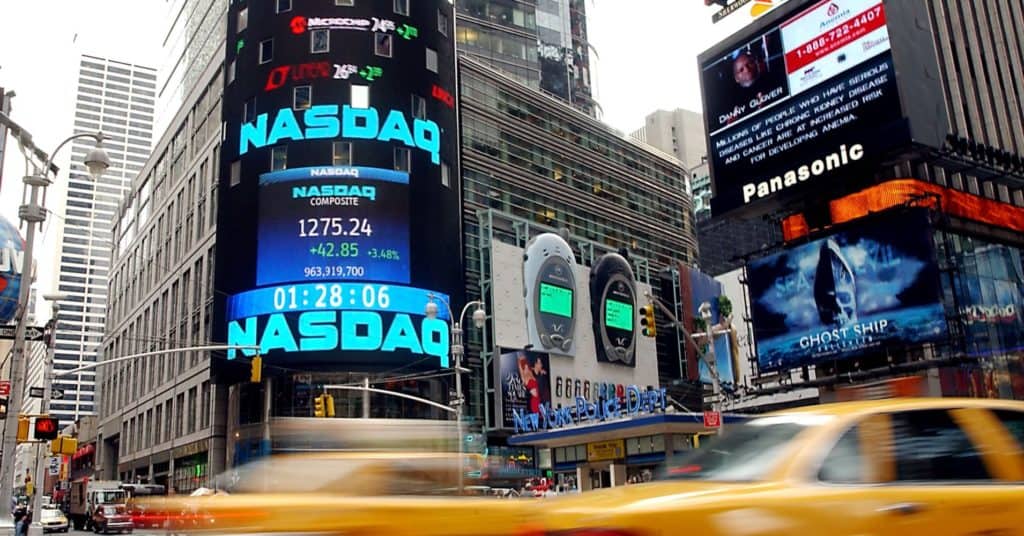 The Nasdaq led Wall Street higher as top-rated entertainment companies Roku, Netflix, and Apple all painted bullish strokes on a healthy rebound in stocks today. Transport and energy firms also led the upside.
Meanwhile, the yield on the benchmark U.S. Treasury 10-year bond jumped 5 basis points to 3.04%, the highest in nearly three months.
The Nasdaq composite led the way, rising nearly 1% following Monday's 1.4% drubbing. Apple (AAPL) gave back some of its early 1.8% advance to rise around 0.5%.
Yet as a clear emblem of the stock's leadership, the iPhone, Macbook, Apple Watch and digital services giant is riding a solid 18.3% gain quarter to date.
Please read this Monday column in IBD Stock Market Today to get a flavor of both a key offense-type sell rule as well as the bullish fundamentals for Apple going forward. The stock, sporting a $1.06 trillion market cap, continues to also show a decent air pocket above its fast-rising 50-day moving average.
The S&P 500 gained nearly 0.7%. The Dow Jones industrial average rose 0.9% as volume continued to climb vs. the same time on Monday. The Russell 2000 lagged a bit, up less than 0.7%. The Nasdaq 100 rallied 1% as The Innovator IBD 50 (FFTY) rose 1.3%.
These Stocks Continue To Lead
Other entertainment-oriented stocks helping to sustain the current bull market include the following:
Roku (ROKU), up 3.5%, is rising 19% past a 60.75 alternate buy point. The smart TV software and hardware expert entered IBD Leaderboard on Aug. 23 as a half-size position.
Netflix (NFLX) gained more than 3% and, following glowing results at Monday's Emmy Awards, is aiming to halt a three-day slide. The stock and longtime market leader is working on a new cup-style base.
Spotify (SPOT) also rallied, rising more than 1.2% to 177.32 in quiet trade. Notice on a daily chart how on Sept. 5 the stock cleaved right through its 50-day moving average, a clear sign of heavy institutional selling.
A prolonged period spent below this key support-and-resistance line would spark a defensive sell signal. The online music giant, which finished its stock market debut in April at 149, has rallied as much as 33% to a high of 198.99. A new base may be forming.
Among the eight Leaderboard stocks, Etsy (ETSY) scooped back some of Monday's sharp losses with a 3% lift to 51.83. Volume was running nearly 20% above average levels with an hour left to go in the regular session.
The consensus forecast for 2018 earnings in the online marketplace for artists and small batch crafts makers, the category that e-commerce site Etsy serves, has gone down a touch. Yet analysts polled by Thomson Reuters still see earnings rising 65% to 43 cents a share this year, then increasing to 68 cents in 2019.
Railroad stocks got a boost on an analyst upgrade of Union Pacific (UNP). The Omaha, Neb., megacap railroad gapped up 4.4% to 163.65, extending gains from a 148.43 correct buy point in a bullish base on base.
Union Pacific is also up 22% year to date, head and shoulders above an 8% advance for the S&P 500.
Another Transport Stock Leader
In the auto sector, Ferrari (RACE) sped ahead 3% to 137.15 in volume juiced up 88% above normal levels. Ferrari's average turnover is 926,000 shares per day.
The October 2015 spin-off from Fiat Chrysler (FCAU) is working on a new base that has elements of a double bottom. A preliminary buy point is 144.93.
The stock entered IBD Swing Trader on Tuesday and also serves as the IBD Stock Of The Day.
IBD's automaker group is down more than 9% year to date and ranks a lowly 185th, but the price-weighted performance has been hampered by short-term volatility in Tesla (TSLA) and poor price action by the likes of General Motors (GM) (RS Rating of 16 on a scale of 1 to 99) and Ford Motor (F) (RS 12).