'I want people to know, don't be scared. Be brave and just live your life'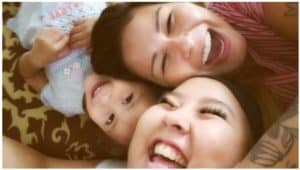 Alicia Joseph is taking the millennial phrase 'YOLO' (You only live once) to a whole new level, living it up this summer.
She's taking a family trip to Oahu to swim with turtles and dolphins, getting matching tattoos with her sister, shopping, camping, going to powwows and barbecues.
She's trying not to think about the brain tumour that doctors predict will end her life in the coming months.
"I'm not scared," she said, sitting with her mom and sister at the dining room table in her Chilliwack, B.C., home.
"I'm not, like, getting depressed or sad over it. I'm glad that I have been here for 16 years. I think heaven is going to be a great place. I'm not too worried about passing on."
An accidental fall leads to diagnosis
It was a day spent snowboarding in April that changed everything.
Alicia wasn't used to the icy conditions that day on Mount Seymour and she fell and hit her head. Hours later, when pain set in, she went to the hospital and was told she had whiplash and a concussion.
"I thought I had to get, like, physio for my neck and my shoulders," she said.
"We just thought it's a bump on the head, she'll be OK," said her mom, Marja.
Weeks after the fall, Alicia found out her worsening dizziness and nausea were not symptoms of a concussion.
"They're, like, 'You have a tumour in your brain and we believe it's cancerous,'" she said, recalling when the doctors at the Abbotsford hospital came back to see her after a CT scan.
"It happened so fast, we didn't have time to digest it," said her sister Sarah.
"All of a sudden they're putting her on a stretcher… it was like, so surreal."
The doctors wanted to operate right away. So Alicia was taken by ambulance to a hospital in New Westminster, B.C., to prepare for surgery.
'I'm gonna make it'
Before she wiped out on the mountain that day, Alicia's life wasn't out of the ordinary for a teenage girl. She talks about hanging out with friends and family, drawing, doing her makeup and watching cop shows like Hawaii Five-0 and Live PD.
When she heard the word cancer that day in the hospital, she said she wasn't too concerned.
"I was like, you know, people get cancer…. A lot of people survive from this. I'm gonna make it. I'm gonna have a great life after this horrible, horrible event."
The first thing she thought about when she was told she needed brain surgery?
Her hair.
"I love my long hair," she said.
"A week later when they took the bandage off, I looked at it. I was bawling for hours. I was on my phone with my sister and she was like, "I'll shave my head, too.""
'There is no cure'
When the surgery was over, Alicia was told she needed radiation to remove parts of the tumour that were still there.
In mid-June, after having an MRI, she received much more serious news.
"We were in a state of shock," said Joseph's mom, remembering being in a crowded hospital room with seven or eight people.
"The doctor's saying three times over, 'There is no cure, there is no cure, there is no cure."
​
The brain tumour was growing back. Doctors told the family it was stage four glioblastoma. According to the Canadian Cancer Society, brain cancers are the second leading cause of cancer deaths in older teens and young adults.
Alicia didn't hear her prognosis — how long she might live — that day in the hospital, but she remembers the doctors explaining her treatment options: more surgery and nine months of chemotherapy and radiation.
Alicia went home with her sister that night after hearing the news.
"The next morning we woke up… and I was like, I'm ready. I'm ready. Tell me."
The decision
Sarah told her the doctors had said she had two months, or possibly more, to live.
"And I was like, YOLO. We've gotta live our life up. I was like, I don't want to do the surgery. I want to live my life to the fullest," said Alicia.
She said she wasn't interested in spending months being sick only to have the tumour come back.
"It doesn't matter what decision she would make … it's hard, for her and for us," said Alicia's mom.
"But at the same time, I understood her reason. You buy more time, but you buy sick time."
After choosing not to continue treatment, the family was called back to Children's Hospital for an informed consent meeting, so the doctors and social workers could be sure Alicia realized the full extent of her decision.
Alicia said after making her decision she got excited about planning her summer.
"I was like, I'm gonna get a tattoo with my sister, I'm going to go on vacation, I'm going to do a lot of crazy stuff."
'Just live in the moment'
Sitting around the dining room table, laughter echoes through the house as Alicia and her sister describe how they started making summer plans over McGriddles — a McDonald's breakfast sandwich.
Friends and anonymous donors have been contributing to an online fundraiser started by a family friend to support her in making her wishlist come true.
The Make-A-Wish Foundation has also stepped in and is sending Alicia and her family on a trip to Oahu in early July.
Alicia said it's spending her time with family and friends that really counts. And staying present.
"Don't live in the past and don't live in the future. Just live in the moment you are in," she said.
Her sister Sarah said she, too, is trying to stay present.
"She's showing me that life is a gift and to live in the moment and to embrace it."
'The coming storm'
Alicia said she has her moments when she questions why this is happening to her — moments of sadness and anger. She said sometimes she retreats to drawing and hanging out with her dog when she needs to reflect.
Her mom describes her as the kind of person who likes to process things in private and that some days are easier than others.
"Sometimes, Alicia is grumpy and I say 'It's OK to be angry. You're allowed to be angry, but don't let it take hold of you because the anger will steal your life.'
"If you feel like crying, it's OK to cry. We all cry, and nobody dies from crying. But they can get sick from not crying."
Sarah said she's been embracing the grief as it comes, recognizing that it's a different, anticipatory type of grief, "the coming storm."
While the family tries to focus on the present, they say there is always an air of sadness to the situation.
"Nobody wants to say goodbye… that's Momma's heart, I love my girl," said Alicia's mom.
Without skipping a beat, Alicia cracks a joke.
"You'll see me in heaven. You're kind of old, so you're getting there. You're getting there, Mom."
"I like to make jokes about it, that's my way of coping with it," said Alicia.
When asked what she hopes people will take away from hearing her story, Alicia said she doesn't want people to focus on her illness.
"I want people to know, don't be scared. Be brave and just live your life. And don't make a mess of it."