The meteoric run up in cryptocurrency valuations last year looked every bit a speculative bubble as the dot-com craze 20 years ago, and the subsequent implosion of valuations in the months since has deepened the parallels. A recent Bloomberg story noted that hundreds of virtual coins have gone to practically zero in value as the market crashed.
Although some tokens will continue to offer value in the future and a few may very well go on to create a broadly accepted, viable alternative to fiat currency, three Motley Fool investors have identified Sarepta Therapeutics (NASDAQ:SRPT), Square (NYSE:SQ), and Netflix (NASDAQ:NFLX) as viable investments that can be bought today.
A proven winner
George Budwell (Sarepta Therapeutics): While cryptocurrencies might sound like a good way to grow your money quickly, biotech stocks have proven their ability time and again to produce life-changing gains for investors. And they have done so without the extreme risk that's part and parcel of the cryptocurrency world.
The rare disease drugmaker Sarepta Therapeutics, for example, has seen its share price almost triple in value in just the last 12 months. The best part, though, is that this rocket-like appreciation appears to not only be justified, but there should be significantly more upside to come in the near-term.
What's the backstory? After a protracted battle with the Food and Drug Administration, Sarepta finally got its Duchenne muscular dystrophy (DMD) drug Exondys 51 on the market via a conditional approval in late 2016. Since then, the drug has quickly penetrated the market, and is currently on track to produce over $500 million in revenue for the company as soon as next year. The crazy part is that Exondys 51 only targets about 10% to 13% of the entire DMD population. Sarepta's remaining pipeline of so-called "exon-skipping" drugs could enable the company to capture upwards of 80% of this market, whereby producing several billion in sales in the process.
Sarepta's story gets even better, however. Recently, the company announced that its experimental gene therapy, AAVrh74.MHCK7.micro-Dystrophin, produced unprecedented levels of a key missing protein in three DMD patients. As such, there's a chance that this mid-cap drugmaker could end up dominating this high-value market for years to come — although admittedly, there are other companies in the hunt to challenge Sarepta.
In sum, Sarepta has the potential to generate sizable gains in a manner that is far safer than crytocurrencies, making it worthy of consideration by growth-hungry investors.
A play on the cryptocurrency industry
Matt Frankel (Square): While I wholeheartedly believe that cryptocurrencies will be a major factor in the future of financial systems all over the world, I have three main problems with people investing significant amounts of money in cryptocurrencies:
There are over 1,900 cryptocurrencies, and no way to know which will be the long-term winners, or if the long-term winners have even been invented yet.
Cryptocurrencies don't produce anything (profits, income, etc.).
You can't invest in cryptocurrencies. Anything that could conceivably double or triple in the course of a few weeks is a speculative asset, not an investment.
Having said that, my preference is to invest in companies that stand to make boatloads of money regardless of which cryptocurrencies turn out to be most successful. And Square is my hands-down favorite in this category.
Square is just dipping its toes in the cryptocurrency waters, allowing Square Cash users to buy and sell bitcoin. However, this is likely just a starting point. Square CEO Jack Dorsey is a big fan of bitcoin, and I wouldn't be surprised to eventually see bitcoin integration in the other components of Square's financial ecosystem. And if there's enough demand for another cryptocurrency, I highly doubt Dorsey would object to Square customers being able to use it.
And as a final thought, let's just say that if some of the old-school investing gurus like Warren Buffett are correct, and cryptocurrencies end up fizzling out, Square still has massive growth potential and will be just fine. Cryptocurrency investors won't.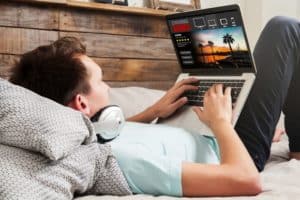 Streaming movie king is better than any crypto king
Rich Duprey (Netflix): The implosion of the cryptocurrency market indicates why most investors may want to have a standoffish policy when it comes to investing in such vehicles and opt instead for businesses with more tangible value, like Netflix. Although its product is delivered into your home digitally, you still have the benefit of seeing a real end product of its efforts.
No doubt Netflix is an expensive stock by traditional measures with a price running north of its earnings by more than 230 times all the while producing negative cash flows. Analysts, though, expect it to generate annual earnings growth of 63% for the next five years as it produces and acquires content and expands operations more broadly overseas. Membership growth here at home continues to surprise, but the real growth potential for Netflix is in international markets.
There are currently 125 million subscribers globally, but at least one analyst believes foreign markets will fuel Netflix's growth to some 360 million subscribers by 2030, nearly tripling its base in just over a decade.
Moreover, because Netflix's basic plan is less expensive than Amazon.com's, despite having more content, it has the opportunity to raise rates without jeopardizing much of its subscriber base.
That could effortlessly add hundreds of millions of dollars to its coffers, much as America Online did back in the late 1990s when it shocked the internet by abandoning the $19.95 monthly subscription fee everyone else was charging, and increased it to $21.95. There were a few members who stopped paying, but AOL's growth curve quickly resumed its upward trajectory.
A more recent example would be Netflix's own decision to effectively double the cost of a membership when it split its business in two with separate plans for DVDs by mail and for streaming. There was a large outcry at the time, but experience has shown it was a shrewd move.
Netflix can still grow into its valuation, and investors will receive a tangible benefit when it does.
This article originally appeared on The Motley Fool.