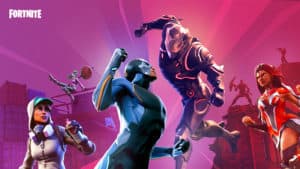 Consider yourself a budding director? Epic Games is inviting all Fortnite Battle Royale players to participate in an original filmmaking challenge. It involves using the Replay system to create a blockbuster-worthy highlights reel featuring Season 4's heroes, and promises a tempting line-up of rewards for successful applicants.
Fortnite's 5th season might begin on July 12, but Epic's contest feels like a natural progression of Season 4's dancing challenge. In week 2, you might remember needing to ostentatiously swing your hips in front of cameras at different locations across the map.
The rules are a bit more stringent this time around — videos need to be between one and five minutes, use royalty free audio, and possess enough creativity and originality to capture Epic's attention — but the bounty is handsome. Grand prize winners receive the honor of having their film screened at the meteoric Risky Reels drive-in. They also collect 25,000 V-Bucks and a poster of their film gets immortalized in the game. Epic is stretching its generosity out to five finalists who'll receive 10,000 V-Bucks as a consolation prize.
If you think you've got what it takes, the Fortnite Blockbuster contest runs until July 11, 11:59PM ET. Epic said it'll announce the victors on July 24. For those who are more eSports-inclined, there's also the upcoming Fortnite competitions, which have an abundant tournament prize pool up for grabs.
This article originally appeared on Engadget.